About

Kay Jewelers
One of the most well-known and established jewelry brands is Kay Jewelers. It's a subsidiary of Signet Jewelers, sharing its title with some of the other big names in the jewelry industry, such as James Allen, Blue Nile and Zales, to name a few. Kay Jewelers has been around for more than a century, which is a big achievement. The jewelry retailer claims to offer high-quality jewelry and watches to its customers, fulfilling its mission of helping them 'Celebrate Life and Express Love'.
History
Kay Jewelers opened its first storefront in Reading, Pennsylvania, in 1916, with its diversified product line encompassing silverware, razors, appliances, eyeglasses and jewelry among other items. Kay Jewelers was acquired by Signet Jewelers in 1990. Today, the company stands as one of the leading jewelry stores in America, with more than 1000 physical stores.
Landing Page
The landing page of a website should be straightforward yet creative. It should excite your curiosities while providing relevant information about the company and its products. In that sense, Kay Jewelers has an informative and attractive landing page. Let's review the many aspects of the landing page of Kay Jewelers.
Home Page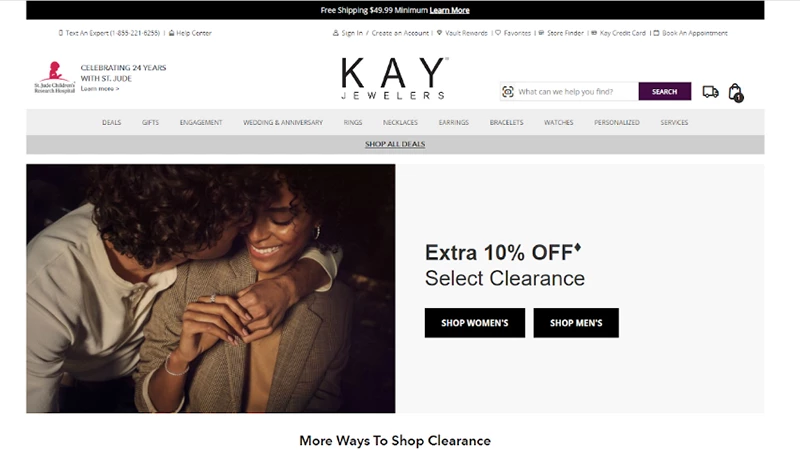 The home page of the website of Kay Jewelers primarily focuses on the company's clearance sales, gifts collection and personalized jewelry. This is a great tactic to catch the attention of a prospective buyer and boost sales. However, it seems like if it weren't for the header, you'd not be able to learn about the complete product line of Kay Jewelers on the home page.
The header of the jeweler's website is set with 11 buttons with designated dropdowns giving you all the relevant information about the company's product line. But apart from that, the home page only talks about clearance sales and various collections. We think Kay Jewelers could benefit from keeping its product line in the spotlight on the home page.
Also Read: Angara Review
Select Clearance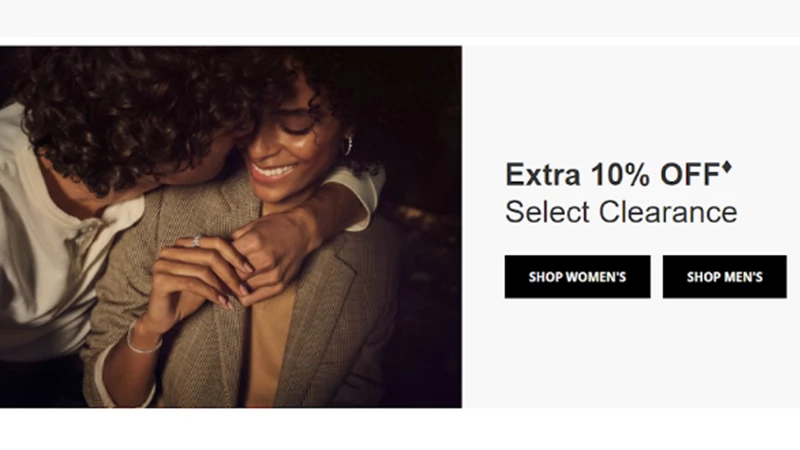 In the Select Clearance banner, you can check out all the jewelry items that are on sale. It has a straightforward appearance with two options: Shop Women's and Shop Men's. A click on any of the two options in the banner takes you to the designated jewelry items on sale. The high-quality picture in the banner, coupled with the text 'Extra 10% Off', encourages you to shop for some jewelry items.
Gifts That'll Dazzle Them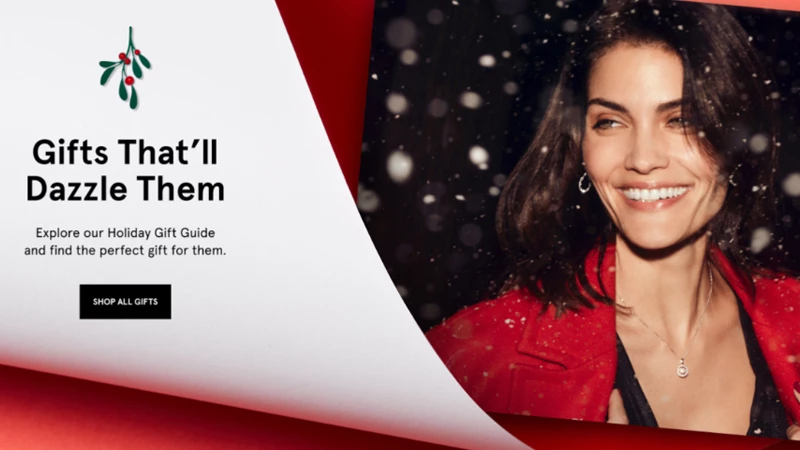 The second banner on the home page of the website of Kay Jewelers promotes their gifts section. A click on the banner will take you to the Holiday Gift Guide page. There, you can shop and buy jewelry items for your loved ones based on gender or price. You can also check out the various collections of gifts that the jeweler offers by clicking on this banner. This section proves to be of great use for someone looking for that perfect gift.
Also Check: GemsNY Review
Unstoppable Love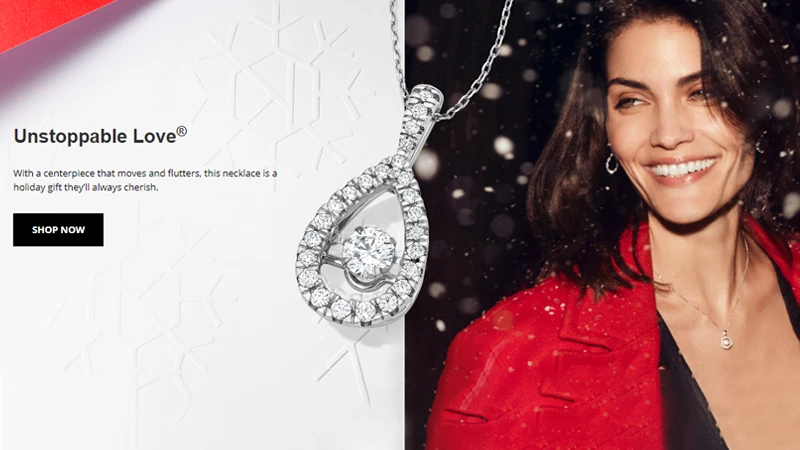 Unstoppable Love is a particular gift collection of Kay Jewelers that comprises various types of necklaces and earrings encrusted with sparkling diamonds. This collection is rich in irresistible designs and creativity. When it comes to jewelry gifts, necklaces and earrings are the first choice of everybody. Setting this collection on the home page is a favorable step for both the company and its customers.
Le Vian & Disney Treasures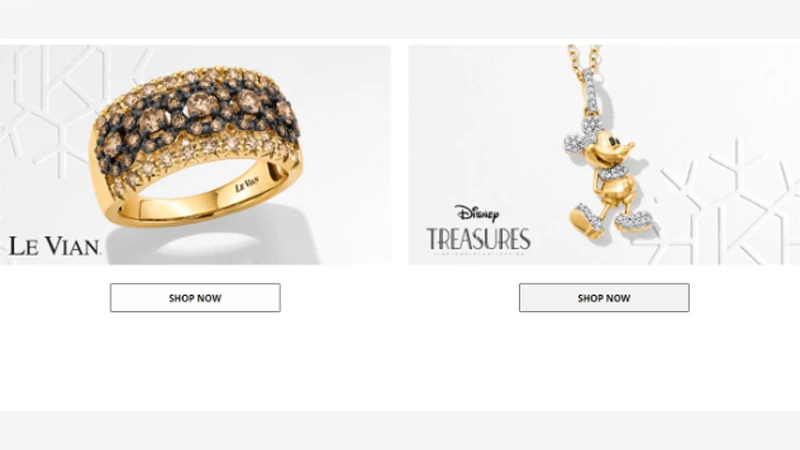 Kay Jewelers has collaborated with Le Vian and Disney, so you will find their exotic and delightful jewelry collection in this section. While Le Vian's collection draws attention to its exquisite and intricate jewelry, Disney's collection features jewelry inspired from some of its most famous characters.
You can find necklaces, rings, earrings, bracelets and jewelry sets fashioned in various appealing designs and styles in the two collections. This section imbues a sense of trust among prospective buyers for Kay Jewelers because of its collaboration with Le Vian and Disney.
Personalized Jewelry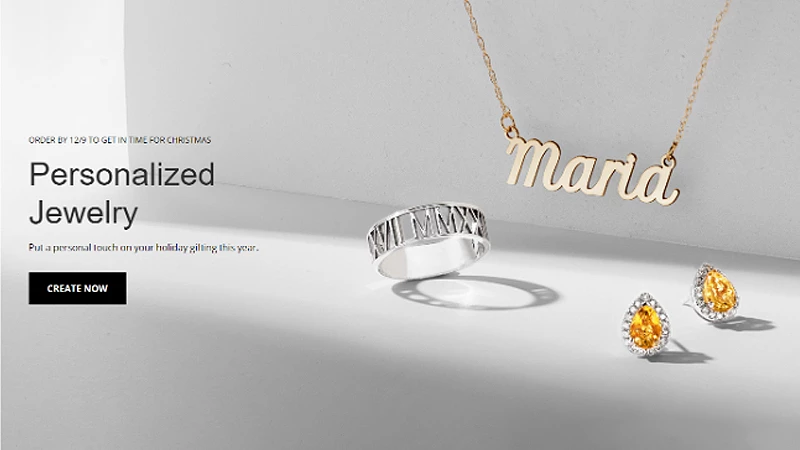 Kay Jewelers has a colossal collection of natural & lab-grown diamonds and gemstones that you can fashion your jewelry with. The Personalized Jewelry section is all about using your creative genius in fashioning bespoke jewelry. You can personalize various jewelry items including necklaces, rings, earrings and bracelets by clicking on this section on the home page. 
This section should have been embedded somewhere at the top of the home page instead of where it is now. There are fewer chances of a prospective buyer scrolling down on the home page of a website if they don't find what they're looking for.
Also Read: James Allen Review
User Interface
A smooth and convenient user interface is a combination of responsiveness, efficiency and clarity. Let's check out whether the user interface of the website of Kay Jewelers stands out.
Deals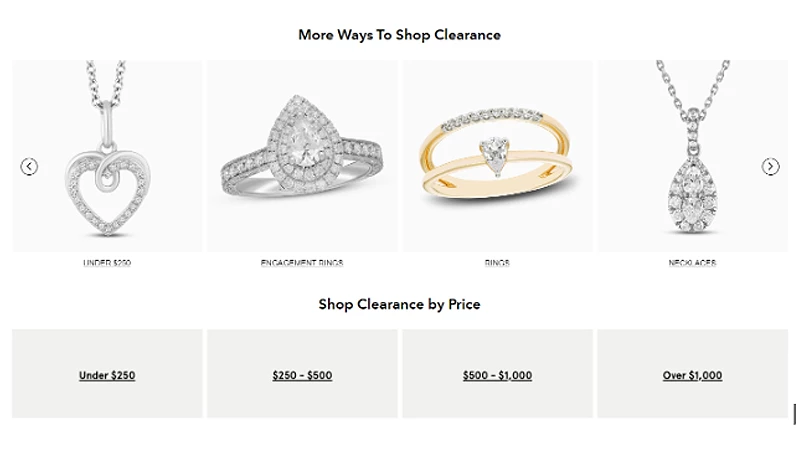 The Deals button is all about interesting offers on jewelry items and watches. Whether you're eyeing an engagement ring or a gemstone necklace, you can get it all by clicking on this button. Kay Jewelers also offers pre-owned 0jewelry to its customers that's available at exceptional prices. All the jewelry items on the Deals page are categorized by gender, rating, discount and price. This categorization of jewelry items makes jewelry shopping at Kay Jewelers easy and efficient.
Holiday Gifts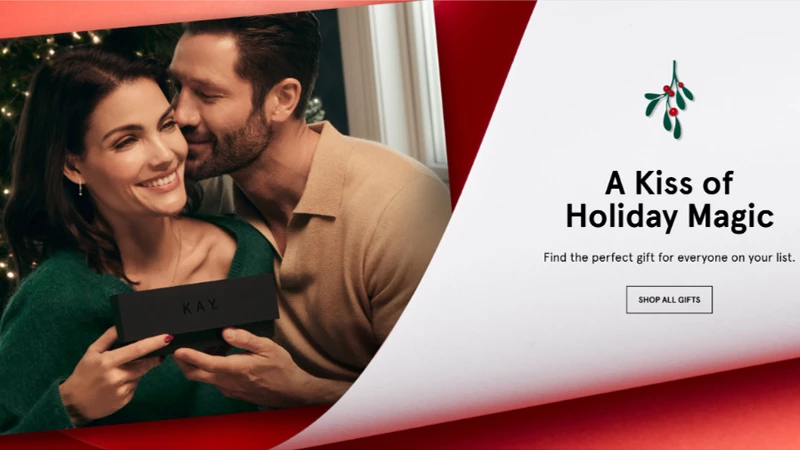 The Holiday Gifts page of Kay Jewelers is full of jewelry suggestions for gifts. The jeweler has created various collections of jewelry items based on intricate designs, styles and metals. Choosing that perfect gift for anyone becomes a walk in the park for you because of these collections. This page can be of great use to prospective buyers who are confused regarding which jewelry item to choose as a gift.
Also Check – Diamondere Review
Engagement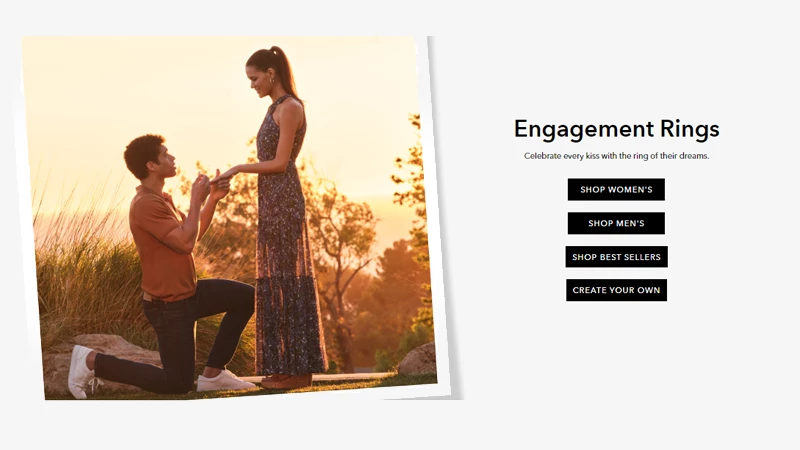 The Engagement section of Kay Jewelers is very exciting. The jeweler has categorized its collection of engagement rings in an interesting and practical manner. Couples looking for engagement rings can choose their fascination based on a series of categories such as style, design, centerstone shape and designer. At Kay Jewelers, you can also create your own engagement ring. The diverse options of this page make it a perfect fit for couples.
Wedding & Anniversary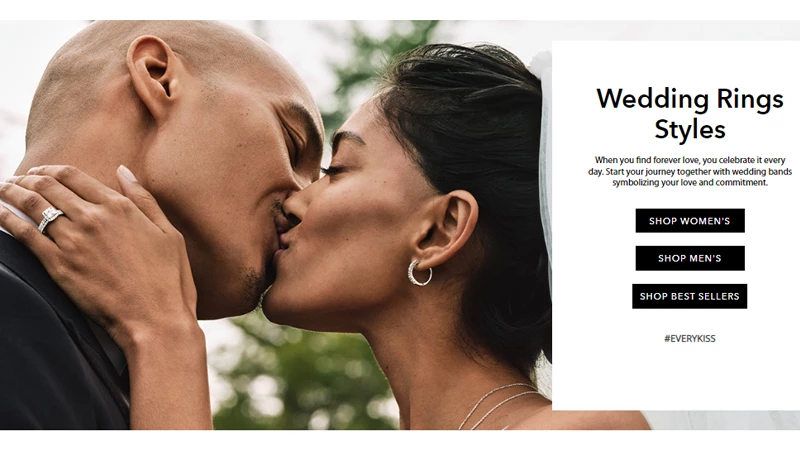 Picking wedding or anniversary jewelry is a daunting task for the uninitiated. To help its customers choose jewelry based on special occasions, Kay Jewelers has embedded its Wedding & Anniversary page with various guides. These guides can be really helpful to customers who have no clue as to which type of wedding or anniversary jewelry they want. Apart from the guides, the Wedding & Anniversary page of Kay Jewelers is full of sparkling jewelry.
Rings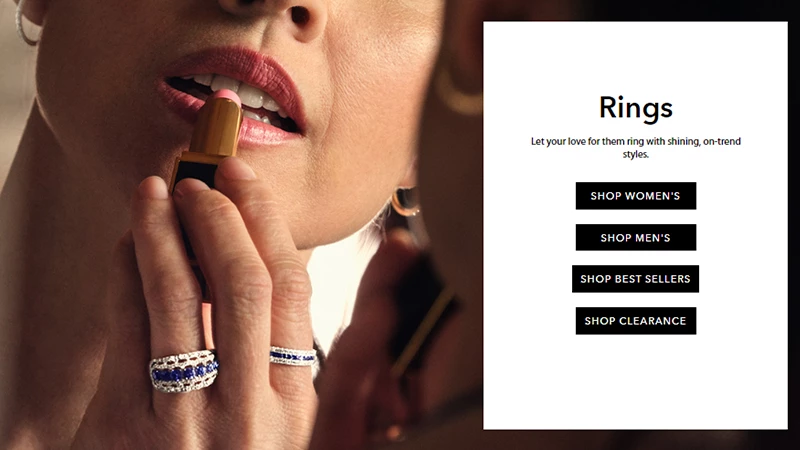 From promise rings to designer engagement rings, you can find all types of rings on this page of Kay Jewelers. The jeweler also has a Stack Up The Style section on its Rings page in which you can mix and match trendy rings to create a stack. With so many ring styles available on this page, one can easily pick one's favorite rings.
Also Read:- The Natural Sapphire Company Review
Necklaces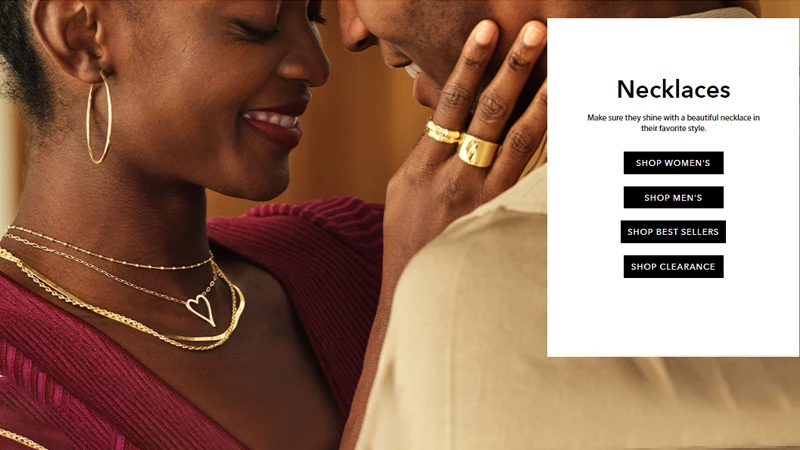 As we move on to the Necklace page of Kay Jewelers, we come across eye-catching styles of necklaces that seize our attention. From personalized pieces to fancy designs, there are necklace styles to satiate everyone's fashion goals. Kudos to Kay Jewelers for coming up with so many intricate necklace designs!
Earrings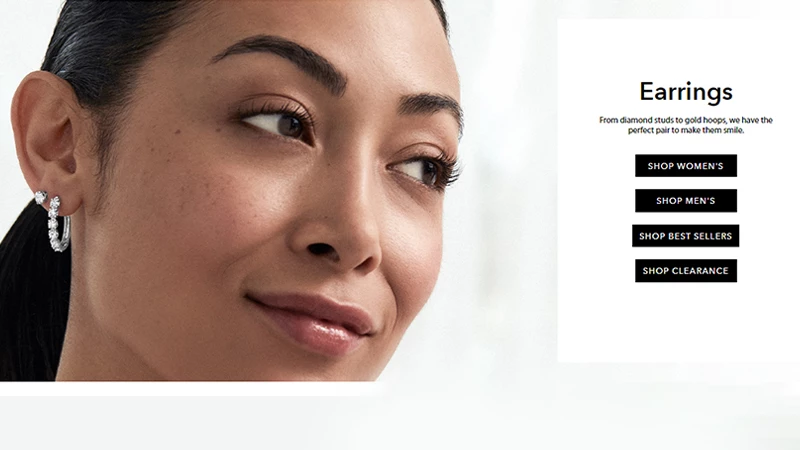 Kay Jewelers has a list of earrings collections that you can check out. The jeweler also has earring guides to help you choose a pair of earrings based on the shape of your face. Kay Jewelers has taken the jewelry buying experience to the next level with its guides.
Bracelets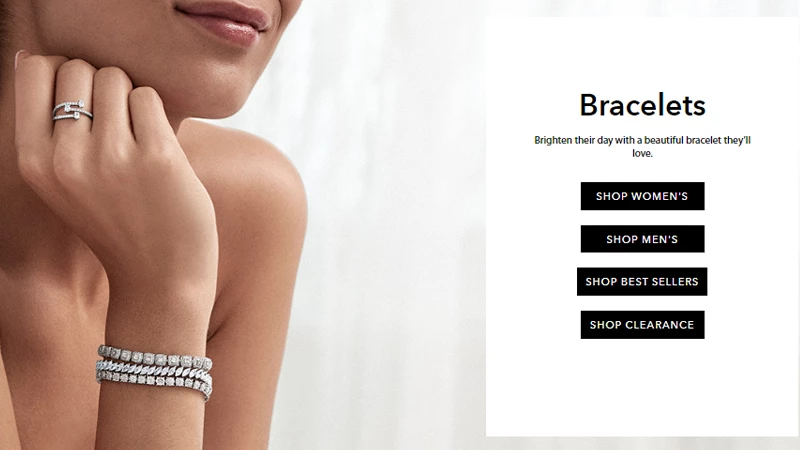 Classic, elegant or bold, bracelets in many styles are offered by Kay Jewelers on its Bracelets page. The beautiful designs of these bracelets artfully showcase the craftsmanship that went behind creating irresistible jewelry.
Also Check:- Brilliant Earth Review
Watches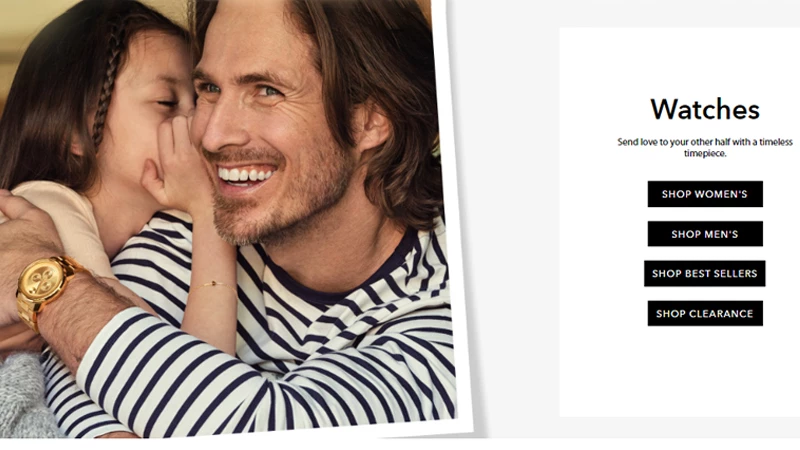 The Watches section of Kay Jewelers more than meets the eye. Be it their traditional timepieces or smartwatches, every watch looks eternally gorgeous. The jeweler has also teamed up with some of the big watch brands such as Movado, Citizen and G-Shock to offer its customers a wide range of watches.
Personalized
In the Personalized Jewelry section of Kay Jewelers, you can create meaningful adornments for yourself or your loved ones. Kay Jewelers also gives you the option to fashion your jewelry with both natural or lab-created gemstones. The Mitchell K collection of Kay Jewelers is a standout because of the level of personalization that it offers. In this collection, you can create your jewelry with your favorite picture. This section can work wonders for you if you're a fan of personalized jewelry.
Positives & Negatives
Let's take a look at some of the positives and negatives of buying jewelry from Kay Jewelers. We've created this list after thorough analysis.
Positives
Creative jewelry

Artistic craftsmanship

Wonderful collections

Successful collaborations

Jewelry buying guides

Cleaning & care tips at the bottom of every jewelry section

Personalized jewelry
Negatives
The home page under-emphasizes the product line

Not much gemstone options to choose from

Monotonous layout
Kay Jewelers Reviewed By Customers
The creative jewelry pieces of Kay Jewelers are a hit among people of all ages. The jeweler has a list of merits that make it stand out. Also, customers talk very passionately about the staff of Kay Jewelers. So, let's take a look at some of the reviews of customers.
By Ronnie
I had great experience at Knightdale Kay Jewelry. Very helpful. Can't say enough about the girls in there. Totally awesome. Got great deal on new diamond for my wife. I can't be any happier with them. If you're in need of any jewelry this is the place to go. God bless.
By Debra
My experience fabulous. Good quality stones. Very happy with my purchase. Love my ring. No problems with stones. I would purchase more jewelry. They were so helpful and got a beautiful one carat diamond that I am very happy with.
The Verdict
In conclusion, we can say that Kay Jewelers is a dream destination for jewelry shopping. The jeweler has a rich collection of various jewelry items that quickly helps you pick your favorite. Apart from that, the quality of the jewelry pieces is excellent and reliable. We strongly recommend you shop and buy your next jewelry piece from Kay Jewelers.