About Diamondere
With the sole intention of bedecking your jewelry box with bewitching handcrafted jewelry, two brothers established Diamondere.com in 2012, taking ahead the 132 years old legacy of their family. For Diamondere, customers always come first, that's why the company believes in crafting jewelry that makes you feel royal.
The company says that we know jewelry and the in-house experts are dedicated to helping you get a piece of jewelry that lasts for generations to come. Along with crafting the finest jewelry, the company believes in authenticity and therefore, all the diamonds and gemstones in their collection are ethically sourced from 13 countries. 
Let's know more about the landing page of the company.
What Will You See On The Landing Page?
Well, the landing page speaks a lot about the website as well as the company. It gives a brief account of what the company is offering and how easy it is to use the interface. From the customer's point of view, the website should be as easy as possible. The jewelry designing and buying process should not involve any complexity. 
What's on the landing page of Diamondere? Let's find out. 
Home Page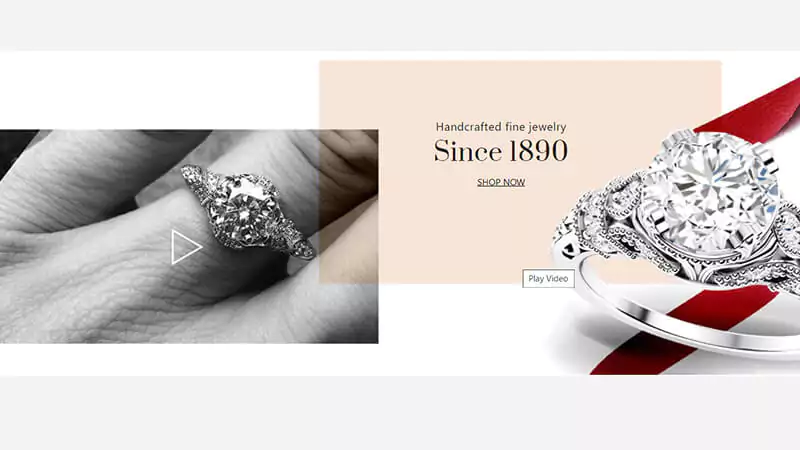 The home page of Diamondere is very creative. The company has highlighted every essential feature that it has to offer to the customers to give them a great jewelry shopping experience. 
But wait… what is apparent may not be the truth. Frankly, the website of Diamondere is designed very creatively, but somehow, it feels like that feasibility and easy-to-use factor have been overshadowed by that creativity. 
Also Read: Ritani Review
Though all the jewelry buying and designing options are available on the homepage, it feels like the company has made a collage of those options, making it complex to understand. This might confuse the customers and make things complicated when they want to add a beautiful piece of jewelry to their collection. 
However, after spending some time on the home page, it will become easy for you to navigate the interface. But if I see it from the customer's perspective, the home page could be simpler and easy to use.  
Eternity Ring: Love Forever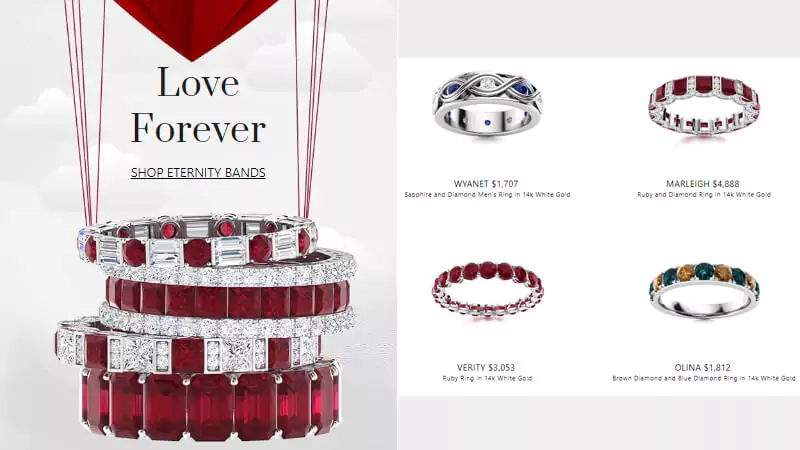 If you're someone who wants to surprise your sweetheart with a forever ring, then this section is for you. The eternity ring collection of Diamondere is breathtaking and will surely tickle your fancy. You will be amazed to know that the company has a variety of eternity ring designs featuring both diamonds and colored gemstones. The outlandish collection of eternity rings will give you a plethora of options to select the perfect piece for your wife. 
Compared to its top competitors (Brilliant Earth and James Allen), I have found that Diamondere has more variety of eternity rings in stunning designs and colored gemstone options. So, you can prefer buying from Diamondere if you want to pick a stunning piece from its wide range of collections. 
Black Gold Rings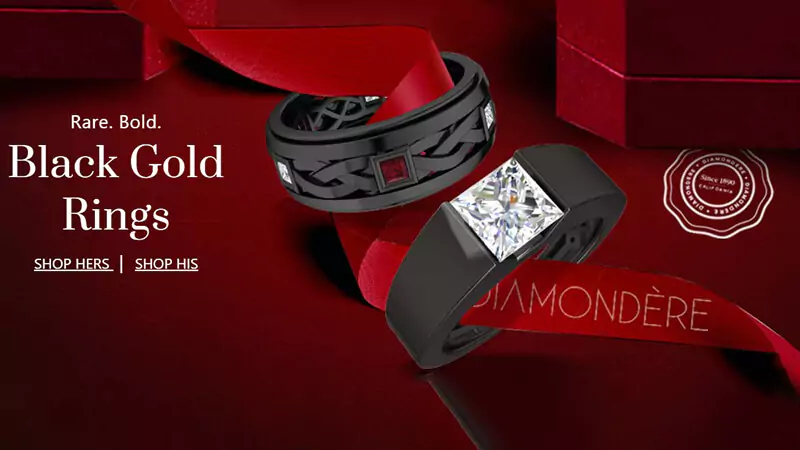 This is something very unique about Diamondere that I have come to know. The black gold ring collection. Yes, you heard it right. Diamondere knows how to add a unique touch to your jewelry and make you stand out. The shiny grey finish of black gold will compel you to add a piece to your jewelry box. 
If you're looking for a piece of jewelry that is not only unique but also adds character to your outfit, then the 'black gold ring' section is probably the one that will capture your eyes. 
Also Check: Brilliant Earth Review
Natural Gemstones (AAAA)
After exploring the men's rings, earrings and other jewelry sections, you will see the natural conflict-free colored gemstone and diamond (both colored and colorless) earring options. One of the major aspects of Diamondere that I have observed so far is that it has an extensive collection of diamond and colored gemstone jewelry compared to its competitors. 
Our Story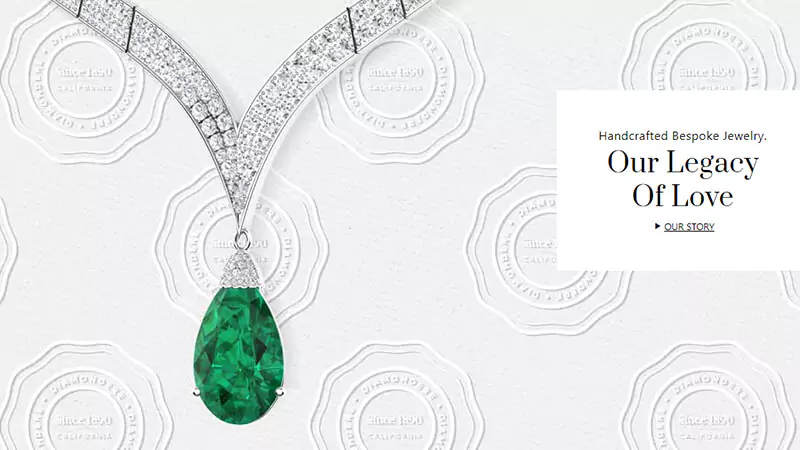 Well, if you're mesmerized by Diamondere's jewelry and want to know more about the company, then this section will let you take a tour of it. In this section, you can read about when and how the company started with the aim of providing high-class artistic handcrafted jewelry. 
Engagement Rings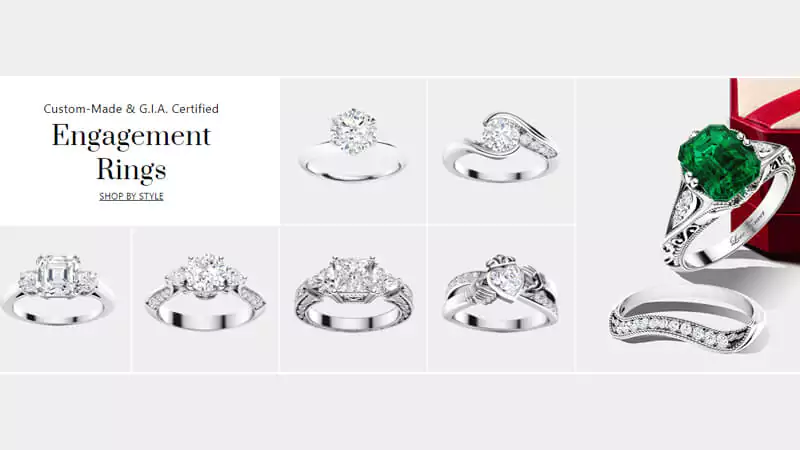 After exploring the wide range of engagement rings collections, I must say that the company has given sharp thought to the designs and setting of the engagement rings. Diamondere's awe-inspiring collection of high-profile engagement rings has made the company a market leader globally. 
If you're soon to tie the knot with your partner and eyeing a beautiful engagement ring, then Diamondere is one of the best online jewelry retailers that can help you select a perfect ring for your partner. 
Begin With The Perfect Diamond
After scrolling down a bit from the engagement ring section, you will come across a section that allows you to design your diamond ring the way you want. This section will let you take an excursion of the incredible ring settings. You can select a perfect setting according to your liking to design a ring that elevates your overall appearance. Whether you like it fancy, vintage, royal or minimalist, Diamondere is a package of all that you need.
Shop Our Instagram
This is another feature that I think is there just to increase the company's online presence. Through this section, the company gives you the option to visit its Instagram page and shop for your favorite piece of jewelry from there. 
You May Also Like: James Allen Review
What About The User Interface?
Apart from the homepage, the user interface of a website is the most important aspect that creates an impression in the visitors' minds. 
Let's get started with exploring the user interface of Diamondere. 
Rings
One of the best things about the 'rings' tab is that you get all the necessary options to curate a marvellous ring. There are a whole bunch of color gemstone options available to design the ring of your dreams. The company has an extensive range of color gemstone options compared to other jewelry retailers. 
I would recommend Diamondere because of its beautiful collection of ring settings (unique, trendy and captivating) and wide range of quality stones.
Engagement
Whether it's a colorless diamond, royal sapphire, vintage emerald, romantic ruby or any other gemstone, at Diamondere, you get everything that is required to create an exceptional ring. The engagement ring collection of Diamondere instantly captures your attention. 
However, Diamondere's engagement rings are a bit expensive compared to its direct competitors – James Allen, Angara, Brilliant Earth and GemsNY. So, if you have a limited budget for your engagement ring, you may have to add some more dollars to your wallet to buy from Diamondere.
Wedding
This is the tab where you find an exclusive collection of wedding rings. The details and crafting of wedding rings are impressive and give a high-profile appearance to the wearer. Along with that, the image quality of rings in the company's collection is cloudless. 
The company has unique wedding ring designs compared to its competitors. So, when you buy from Diamondere, you have a whole lot of ring designs to choose from. 
Necklace
From modern to fancy to stylish, you will find all types of necklaces in both diamonds and color gemstones in the 'necklace' tab. The wide range of necklace collections gives you the option to design a necklace that stands out.  
Earrings
I am pretty impressed with the rich jewelry collection of Diamondere. But the company's earrings collection is not wide as compared to the other jewelry sections. The company has a very definite collection of earrings that might not interest visitors. 
Bracelet
The crafting and quality of Diamondere's bracelet are remarkable. The apple watch band and love bangles are the true attraction of the bracelet section. You can design a beautiful bracelet in both diamond and color gemstones to style yourself uniquely. 
Men's
If you're designing jewelry for your man, then the company has dedicated a separate section for men's jewelry. The company has a very handsome collection of men's jewelry including men's earrings, men's rings, signet rings and cufflinks. You can fashion all of these with colored gemstones of your choice and in unique designs that will give a dapper appearance to the wearer. 
Also Read: Angara Review
Let's Have A Look At The Positives And Negatives
Positives
Conflict-free diamonds.

Free 1-year warranty.

Free 100-day returns.

Ethical sourcing.

Free resizing of your jewelry.

Complementary global shipping.
Negatives
Jewelry settings are overpriced.

The homepage is a little complex.

Limited earring collection. 
Reviews Of Customers
The quality and craftsmanship of Diamondere are commendable. With its unique jewelry designs and dedication to taking handcrafted jewelry to an advanced level, the company has come a long way.
Let's have a look at what customers think about Diamondere. Here are a few customer feedback quoted.
HIGHLY RECOMMENDED
Fast Shipping, arrived sooner than expected, looks great, fits good, the engraving was there but I doi wish it was bigger, nonetheless I still give 5 stars and customer support was very helpful. I hope this helps anyone looking for a ring and thank you again Diamondere.
SIMPLY STUNNING
Could not have been more pleasant or easy, the final product was exactly what i wanted except better. Highest recommendation possible and very quick.
ALWAYS A PLEASURE TO DO BUSINESS WITH!
This is my third and definitely not my last time ordering from Diamodere. Great service and products; I have just received my engagement ring and it looks beautiful!
Financing Options
The company also provides financing options on its stunning jewelry collection. The interest rates of financing vary between 10% and 36%, depending upon the time and purchase amount. 
Final Verdict…
Undoubtedly, Diamondere is one of the most renowned online jewelry retailers worldwide. And, the quality of its jewelry is very good, but the pricing factor might disturb you a little. The jewelry of Diamondere is quite expensive than its direct competitors (James Allen, Brilliant Earth and Angara).
However, if you don't want to shell out extravagantly, then I would recommend you to consider buying from other jewelry retailers.