About The Natural Sapphire Company
The Natural Sapphire Company's undying love for sapphire has made the company a global leader in a particular gemstone category. The company claims to offer true beauty, value and rarity in all its sapphires. Along with that, all the sapphires are free from treatments such as color defusing, irradiation oiling, glass filling and heating. This is what makes the company's sapphire worth treasure. 
History Of The Natural Sapphire Company
Like many other online retailers, The Natural Sapphire Company is not just a start-up focusing on increasing its sales figures. The company is dedicated to providing its customers with the finest quality sapphire jewelry. The founding president of The Natural Sapphire Company, Walter S. Arnstein, had a passion for the unfathomable beauty of sapphire and wanted to design sapphire jewelry as pretty as a picture. 
In 1939, Walter laid the foundation of The Natural Sapphire Company to bring a revolution in the jewelry industry that too in a particular gemstone category.  
Let's Talk About The Landing Page
Simple. Yes, the landing page of any website should be as simple and easy to operate as possible. The landing page gives a brief idea about what the company is offering and how easily customers can add their favorite piece of jewelry to the cart.
So, without wasting any time, let's start by exploring the features of The Natural Sapphire Company's landing page.
Home Page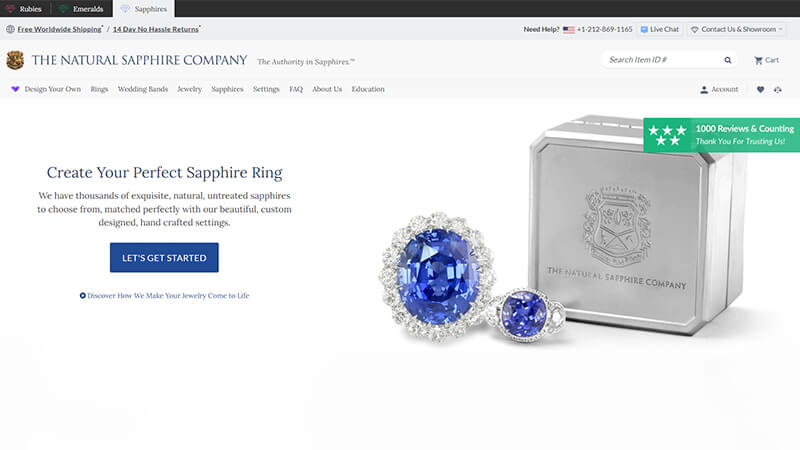 The company's home page is very comprehensible and easy to operate. You will find all the jewelry designing options on the home page itself. When you open the website of the company, you will see the latest and exclusive offers on jewelry. Though the home page is quite easy to understand and operate, I find it less creative and appealing compared to other online jewelry retailers.     
The company could make its home page more creative to make an impression on the minds of visitors. Displaying a variety of sapphire jewelry in a big picture could make the home page more attractive and captivating.
Also Read: Angara Review
Create Your Perfect Sapphire Ring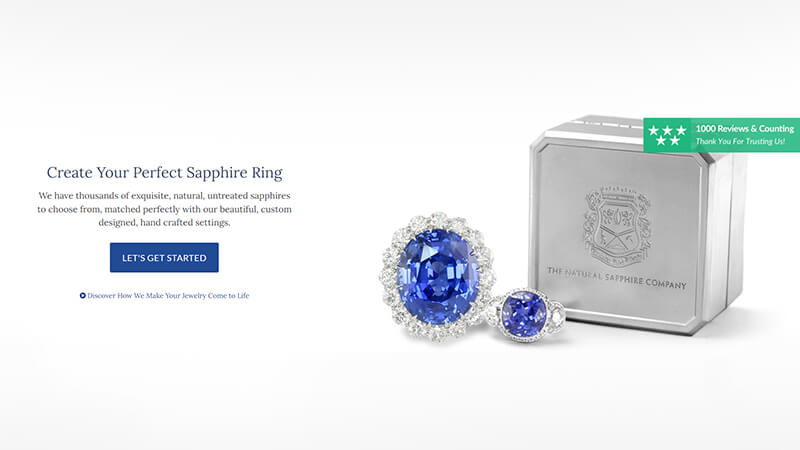 This is the section that will let you take a tour of the company's exquisite natural untreated sapphire collection. You can choose your perfect sapphire gemstone from the collection to curate a stunning sapphire ring. 
This feature gives you a whole new experience of designing your sapphire ring in a completely new way. In this section, you will find all the necessary options available that are required to curate a perfect ring. The designing process part that you will find right before entering the creating process is impressive. 
Sapphire Jewelry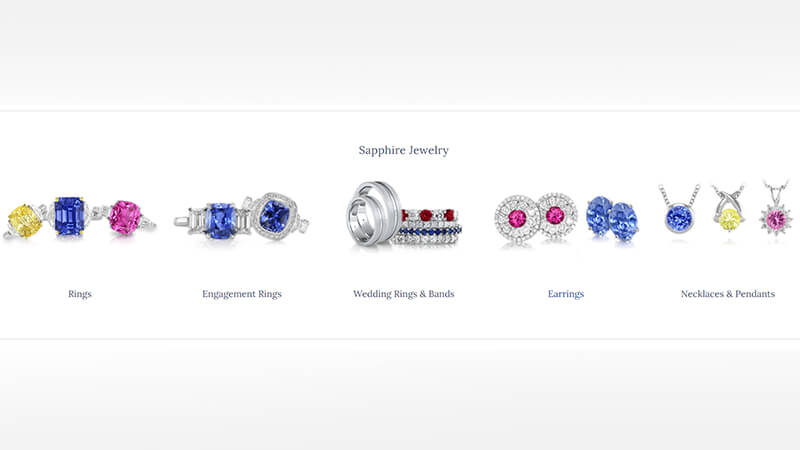 This section offers you a range of various sapphire jewelry collections. Whether you're eyeing rings, engagement rings, wedding rings, earrings or necklaces, this section is a true package for all that you need. Here you get not only blue but all the rare shades of sapphire. So, if you want to add a fancy touch to your jewelry collection, then this section will surely help you select a perfect piece. 
Sapphires And Settings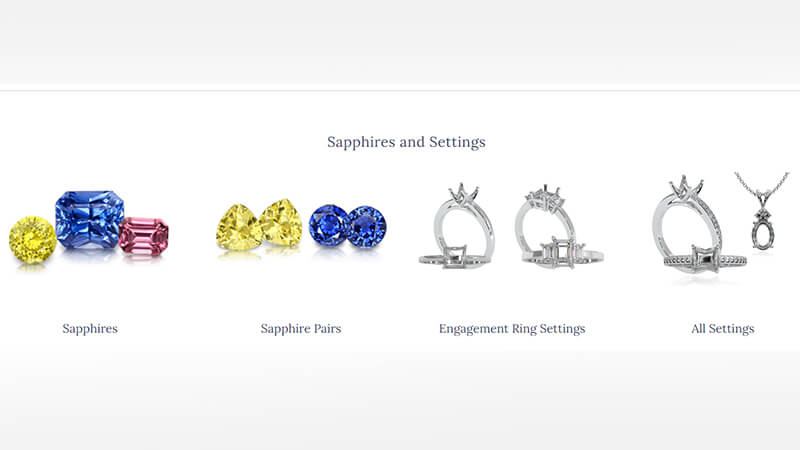 If you want to design a variety of sapphire jewelry, then the 'sapphires and settings' section is for you. This section offers you an extensive range of sapphire and jewelry designs all in one place. Whether earrings, engagement rings, necklaces or men's rings, you will find every type of jewelry in this section. I have found this section amazing because of the availability of all jewelry types, settings, stone shapes and sizes.
The User Interface
Till now, we have talked about the landing page of The Natural Sapphire Company; it's time to go through the user interface. However, the company's user interface looks pretty easy to operate, but before giving any assurance, let's see how easy it is to use the interface.  
Also Check: GemsNY Review
Design Your Own
This is the first tab that allows you to design beautiful and dazzling sapphire jewelry. One of the most interesting things about this tab is that you get a bunch of filters that make it easy for you to design what you want. You can start designing your sapphire jewelry either by selecting a sapphire (from all varieties of sapphires) or a jewelry setting. 
I have found this tab unique because no other online jewelry retailers are providing the customer with such amazing design filters in a very simplistic way. 
Rings
Whether you want to purchase a ring for your engagement or some other special occasion, this tab will help you create the ring of your dreams. In both options, you will get all the rare colors of sapphire that make it exciting for you to pick one that goes perfectly well with your unique personality.
You get a whole bunch of design options where you can select the origin, color, clarity and intensity of the sapphire. The Lady Diana's ring style option will surely capture your eyes.  
Bands
By using the 'bands' tab, you can create wedding bands for both men and women. Here you get an add-on feature through which you can create sapphire and diamond wedding bands. The only negative point I have found so far about this tab is that you only get sapphires of pink, white and blue colors.
Jewelry
In the jewelry tab, you will find all types of jewelry options, including emerald and ruby jewelry. Well, there is nothing unique in this section except the fact that you will find all the jewelry options available in one place. 
Sapphires
Right next to the jewelry tab, there is the sapphires tab, where you will find all the unique varieties of sapphire. You can also buy sapphire in pairs to design your unique sapphire jewelry. This tab also offers you some unique features, such as you get the Bi-color sapphire (a sapphire that features two or more colors) option for your jewelry. This makes the company a market leader in a particular gemstone category worldwide. 
Settings
This is the tab where you will get all the custom jewelry settings available. Whether you want to curate engagement rings, rings, men's rings, earrings or necklaces, this tab has everything that you need to design an exceptional piece of sapphire jewelry. 
Also Read: James Allen Review
Positives And Negatives Of Buying From The Natural Sapphire Company
Positives
All varieties of sapphire

Easy-to-use interface   

Non-confusing range of jewelry settings

Free worldwide shipping

One of the largest sapphire collection 

All sapphires are certified

Free re-sizing 
Negatives
The home page is not appealing 

Image quality is somewhat low 

Rings settings are a bit expensive
What Do Customers Think About The Natural Sapphire Company?
The company's unique collection of natural sapphires is one of the reasons why the company is the customers' first preference. Apart from that, the easy-to-use interface makes it feasible for customers to design a beautiful piece of sapphire jewelry. This is why with an average rating of 4.4, the company claims to be the most trusted online jewelry retailer.     
Let's have a look at some of the reviews of customers.  
By Susan
I had a wonderful experience picking out three stones: one padparadscha & two peach sapphires & then designing a yellow and white gold ring with them. It is stunning! Exactly what I hoped it would be. Lauren was great to work with. Collaborative & responsive. I'm already planning my next piece, a necklace. Thank you and happy to recommend!
By Carly
I received my ring earlier today. It is absolutely exquisite and I couldn't be more pleased. The detail of the ring coupled with the brilliance of the emerald and diamonds makes it hard for me to keep my eyes off of it. Katherine was so responsive and did a wonderful job of keeping me informed on where the company was at with putting my ring together. Such a lovely team to work with. 
Also Check – Diamondere Review
Final Verdict: Should You Buy From The Natural Sapphire Company?
Overall, I have found the company very promising if I would want to buy sapphire jewelry. The price range of sapphire and jewelry settings may differ from company to company, but the quality of the company's sapphire collection is outstanding. Along with that, the interesting part of buying from the company is that you can track the origin and source of the sapphire you're getting. So, I would consider buying from The Natural Sapphire Company if I want to curate a piece of sapphire jewelry.