About Swarovski
Swarovski, a prestigious name in the world of luxury crystal creations, was invented by Daniel Swarovski, a Czech-born Austrian glass cutter with a visionary spirit. In 1892, he revolutionized the crystal industry by inventing and patenting the electric cutting machine. This groundbreaking invention streamlined the production of lead crystal glass jewelry, a process that had previously relied on labor-intensive hand-cutting methods.
He and his collaborators, financier Armand Kosmann, and Franz Weis, founded the Swarovski Company, originally established as A. Kosmann, D. Swarovski & Co. and later shortened to KS & Co.
Today, Swarovski stands as a fifth-generation family-owned business, continuing to honor its legacy of innovation and craftsmanship. The brand's expansive range of products includes glass sculptures and miniatures, jewelry, rhinestones, home decor, and much more, reflecting their commitment to adding a touch of sparkle and elegance to the world.
What Swarovski is famous for
Swarovski is celebrated for its exquisite crystal creations which are not geological crystals. Instead, they are a specialized form of glass produced through a confidential manufacturing process. This unique method guarantees a remarkable level of precision, resulting in brilliant, diamond-like crystals. Swarovski's crystals stand out due to their higher refractive index, bringing them closer to the brilliance of diamonds.
The Landing Page of Swarovski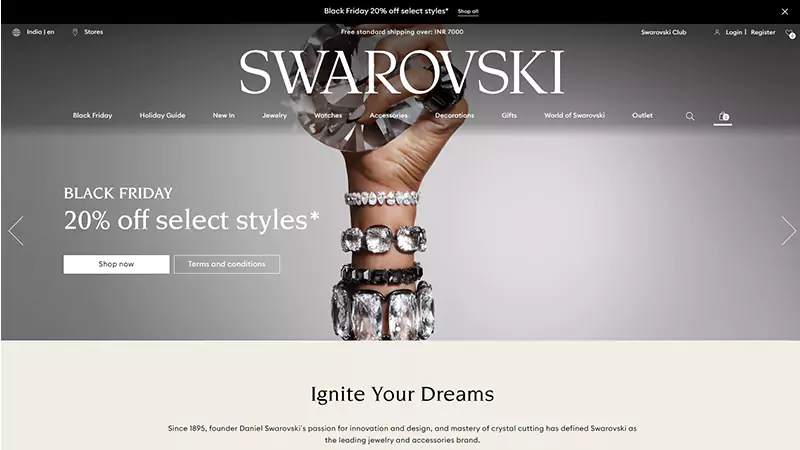 Swarovski's landing page impresses with its elegant design, but some areas could use refinement. Navigating back and forth among tabs can be a bit chaotic. While creativity shines through, the use of posters and screen space seems excessive, sometimes leaving unused, empty areas. Additionally, some product images are creatively large but can be confusing without scrolling for details.
That being said, it's worth mentioning that the landing page showcases the brand's elegance admirably. With time, navigation becomes more manageable, but from a customer's perspective, the homepage could be more user-friendly and aesthetically pleasing. Balancing creativity with usability would make it better.
Glittering Holiday Gifts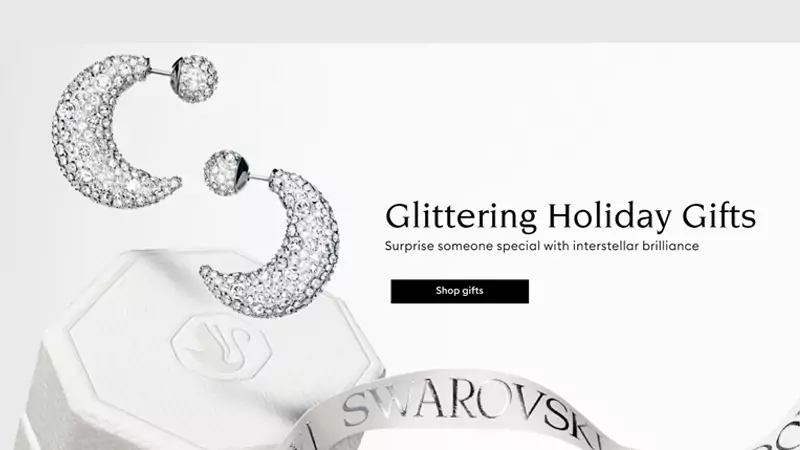 When you explore Swarovski's site, you're greeted by a sparkly world of gifts, perfect for birthdays or romantic gestures. They've got budget-friendly picks in the "Gift Corner – below $130" and even options for corporate gifting. Swarovski is your go-to place for all your holiday gifting needs!
Home for the Holidays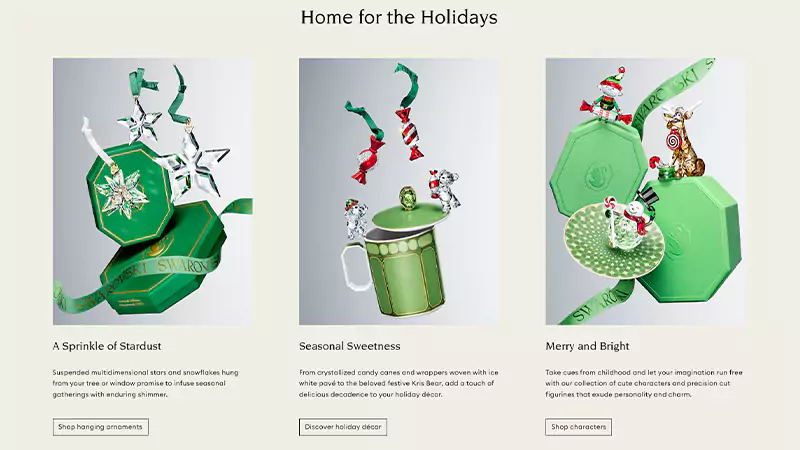 In this holiday section, you'll find seasonal home decor that elevates your living space with sparkling decorations and ornaments, infusing the spirit of the holidays. From Christmas to Easter, this section captures the essence of various holidays.
Millenia Crystal Jewelry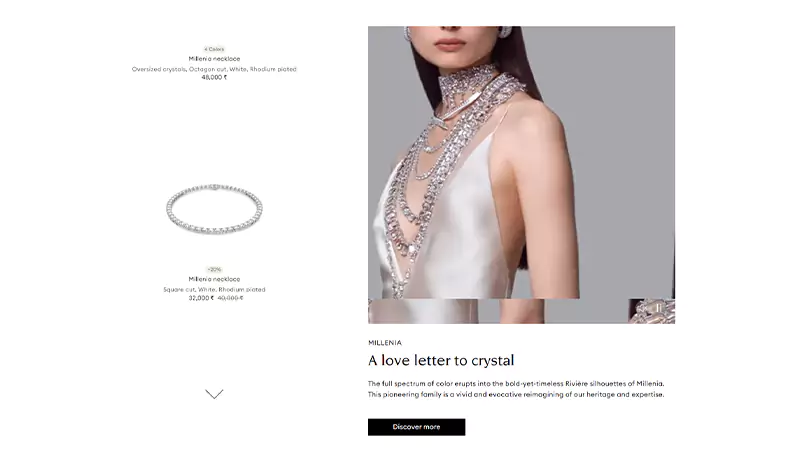 Discover Swarovski's "Millenia Crystal Jewelry" collection, a stunning selection of clear crystal pieces that includes necklaces, rings, earrings, and bracelets. These versatile gems are like drops of light that beautifully illuminate your everyday style. Each piece is designed to add a touch of elegance, whether it's for a special occasion or to enhance your daily look. The Millenia collection embodies Swarovski's commitment to crafting radiant, timeless jewelry.
Festive Bestsellers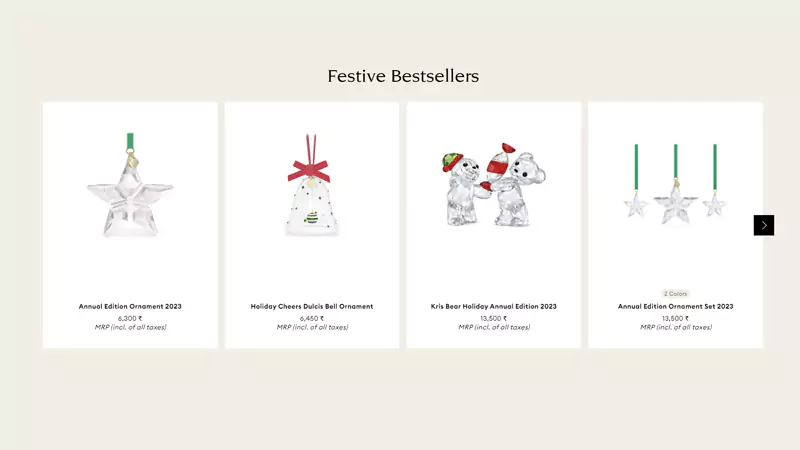 In this section, Swarovski curates a collection of their most beloved and popular items, each tailored to suit the spirit of various festive seasons. Whether you're celebrating Christmas, Valentine's Day, or other special occasions, you'll find a handpicked selection of bestsellers that perfectly capture the essence of the moment.
Shop by Category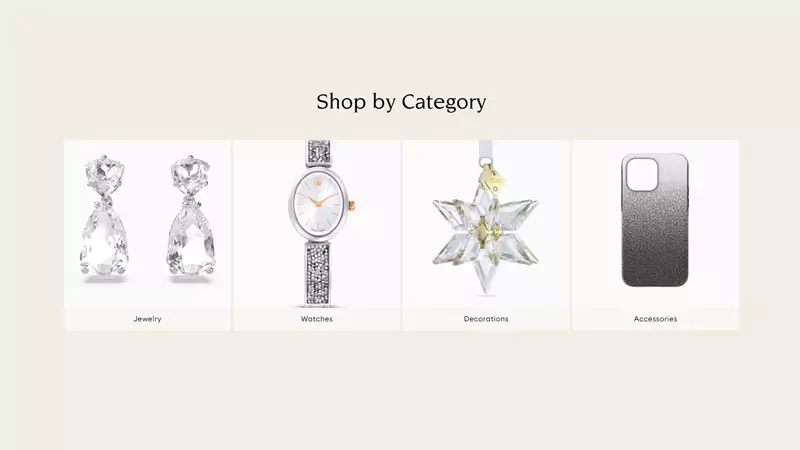 After browsing festive bestsellers, this category section simplifies shopping by neatly categorizing Swarovski's offerings. Easily explore jewelry, watches, decorations, and accessories. Well-organized categories make finding the perfect piece effortless. Discover Swarovski's brilliance in a few clicks for personal use or gifting.
World of Swarovski
After I got close to the bottom of the Swarovski website, I stumbled upon the captivating "World of Swarovski" section. Here, three popular styles steal the spotlight.
Lab Created Diamonds: Ethical luxury is embodied in these diamonds, identical to mined ones but with an ethical origin. Swarovski marries them with precious metals for timeless pieces.
Eyewear Guide: This guide unveils crystal-studded sunglasses, offering both eye protection and a bold fashion statement.
Millenia Jewelry: This collection merges modernity and elegance, with innovative designs and Swarovski's brilliance, appealing to the contemporary generation.
What's In The User Interface?
Navigating Swarovski's website was a delight. The interface was clean and intuitive, allowing seamless exploration of various categories and products. The well-organized navigation menu at the top of the page made switching between sections effortless. It felt like the website was designed specifically for a hassle-free shopping experience, ensuring I could easily find what I was looking for.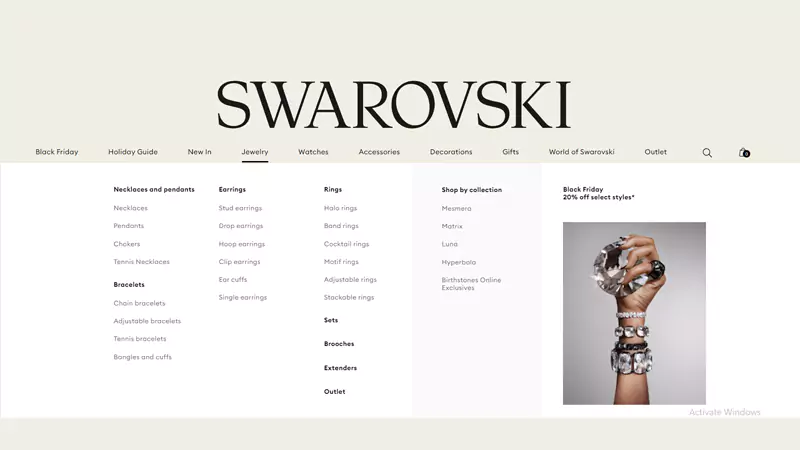 1. Holiday Guide
I stumbled upon Swarovski's holiday guide, and I must say, it's a gem for finding the perfect gift for special occasions. It's as if they've curated a sparkling treasure trove of gift ideas. Whether I'm shopping for a loved one's birthday or a unique present to celebrate a milestone, this guide simplifies the process of making someone's day special.
2. Jewelry
The jewelry section is a real standout. I found myself captivated by the stunning collection of rings, necklaces, earrings, bracelets, and more. Each piece is a masterpiece in itself, and I was spoiled for choice with designs that ranged from classic to contemporary. It's not just jewelry;it's wearable art.
3. Watches
Swarovski's watch collection is a true testament to their dedication to craftsmanship. I was drawn to these timepieces that seamlessly blend precision and elegance. Crystal accents and luxurious materials make these watches a perfect accessory for any occasion.
4. Accessories
I was delighted to explore the accessories section, which offers a range of products, including stylish sunglasses, crystal-studded smartphone cases, and chic bags. Swarovski's touch of glamor transforms everyday essentials into fashion statements.
5. Decorations
For home decor enthusiasts like me, the decorations section is a treasure trove of crystal figurines, ornaments, and vases. These pieces can truly elevate the ambiance of any living space. It's as if Swarovski has designed these items to bring a touch of magic to our homes.
6. Gifts
The gifts section is a thoughtful haven. It offers a plethora of options for every occasion, from birthdays to weddings. The exquisite packaging adds to the joy of gifting, making each present feel like a piece of art and love wrapped in one.
7. Swarovski Created Diamonds
I was intrigued by the "Swarovski Created Diamonds" tab. Swarovski's venture into lab-grown diamonds is nothing short of remarkable. These diamonds are virtually indistinguishable from mined ones in terms of quality, yet they come with an ethical origin. Swarovski combines these lab-grown diamonds with precious metals, creating pieces that are not just beautiful but also ethical, which resonates with my values.
8. World of Swarovski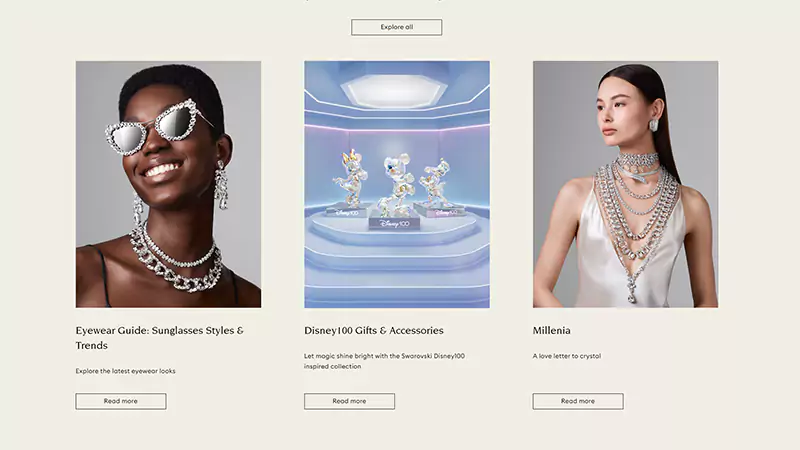 In this section, it's like stepping into Swarovski's creative universe. I discovered details about their famous collections and collaborations. Whether it's the Marvel x Swarovski collection, the innovative BMW x Swarovski partnership, or the fashion-forward Swarovski on the runway, this is where you can explore the brand's creative collaborations and iconic designs. It's a fascinating journey into the heart of Swarovski's creative spirit.
Let's Look At the Swarovski's Bright Sides & Shadows
Positives
Exquisite Craftsmanship
Wide Product Range
Ethical Lab-Grown Diamonds
Innovative Collaborations
Elegant Gift Packaging
Negatives
Premium Pricing
Fragile Jewelry
Limited Men's Collection
Customization Constraints
Customer Reviews
Opinions are mostly positive, praising unique designs and quality. Wide selection is a hit for gift seekers. Yet, fragility and pricing raise concerns.
Quality is great, sparkling, just excellent!
Some pieces are very beautiful. A bit overpriced but I think they charge more for the process rather than the material itself. I usually buy stuff from the sale section as some of them can be steals and wear it only on occasions so it lasts long for me.
Swarovski has a worldwide reputation of being some of the best optics. Many hunters, birdwatchers will swear by them. I personally own 2 pairs of Swarovski Binoculars and a Spotting Scope. Crystal clear, and bright as day, even in the evening light.
Financing Options
Swarovski provides Afterpay, splitting your purchase into four payments, payable every two weeks. While this makes it more manageable, some may consider the commitment over a few weeks a downside.
Should You Shop at Swarovski?
Swarovski spells elegance and luxury, offering a dazzling variety of beautiful products to match every taste. It's the place to find something special or simply treat yourself. They're all about skill, Swarovski diamonds, and creative collabs, making it a top pick for crystal fans.
If you're into crystals, Swarovski's got your back. But if you're more into real diamonds or gemstones, you might want to check out other big names in the gemstone game. They offer more ways to customize your bling. While Swarovski's prices can be a tad high, you get quality and timeless designs if you love all things luxurious and stylish with a dash of crystal charm.