Table Of Contents
About GemsNY
GemsNY is located in the heart of New Jersey's jewelry district and is a known online retailer of loose gemstones and jewelry. For more than 30 years, GemsNY has been serving its customers wholeheartedly. GemsNY has left an incredible image as a market leader by providing quality products to its customers. 
The company has expertise in designing jewelry that is just made for you. Throughout its long journey in the gems and jewelry industry, GemsNY has gained customers' trust and created a striking appearance on social media. Customers from all across the world have shown their trust in the product quality and service of the company. GemsNY has more than 2500 reviews with an average rating of 4.9, which itself is a certification of excellence.
What is GemsNY known for?
GemsNY has always been dedicated to making jewelry more luxurious. With the goal of 'Redefining Luxury', GemsNY started its journey to give jewelry a new touch of luxury. The company is widely known for its bespoke services where it designs the jewelry of your choice. The quality of GemsNY's gemstone jewelry is one of the best in the segment. The company has a huge collection of more than 50,000 gemstones in its inventory. GemsNY is a wholesaler and sells gems and jewelry directly to consumers without any involvement of middlemen.
When You Land on The Home Page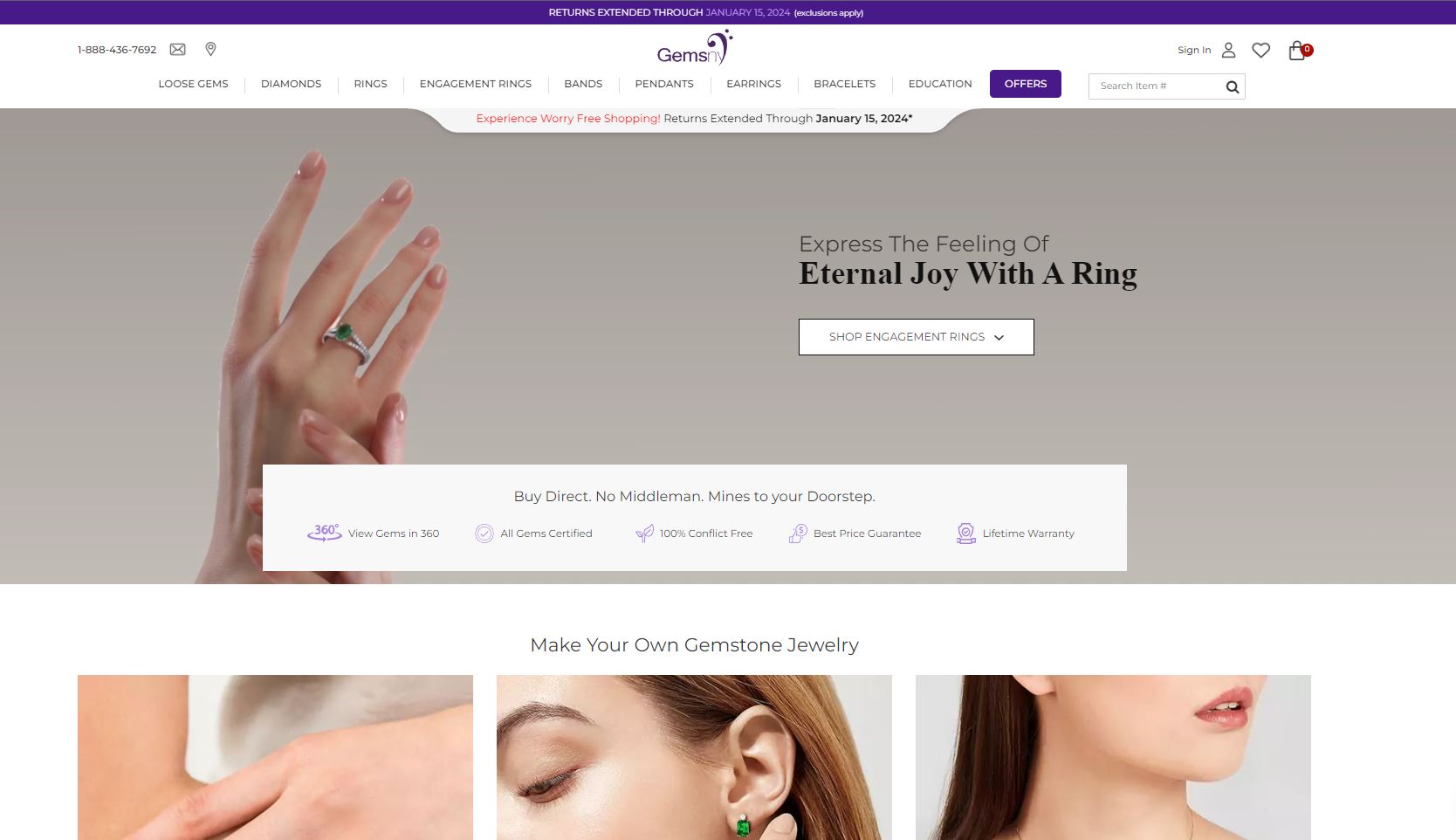 When you open the website of GemsNY, you will come across the home page where the company publishes its exclusive sales offers for customers on different occasions and festivals. You can quickly avail the exciting offers at a discount price whenever there is any special day or event. The company regularly comes up with exclusive offers for its customers on their jewelry collection.    
Design Your Own Engagement Ring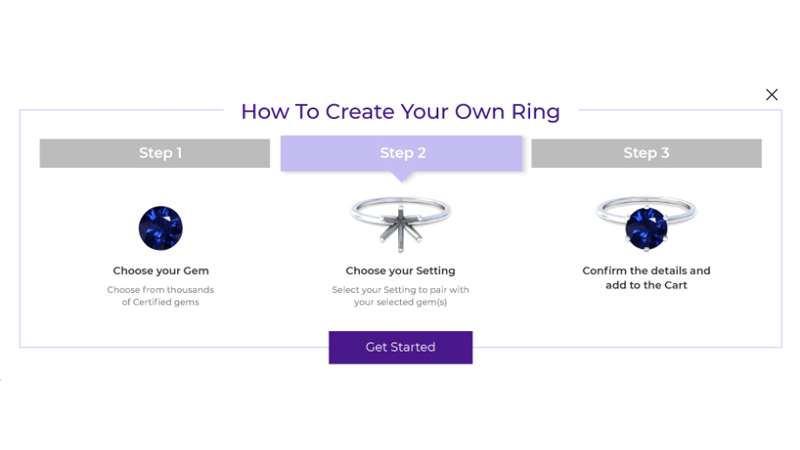 After scrolling down a bit, you will see a section – design your engagement ring. This section allows you to design color gemstones or natural diamond engagement rings. You can start with either a gemstone or ring setting to make your own engagement ring. The company also has a vast collection of designer ring settings which you can choose to get a one-of-a-kind ring.
Make Your Own Gemstone Jewelry
Moving a little further, you will hit on a creatively designed section that allows you to make your gemstone rings, earrings, and pendants. This section is sorted by various options in gemstones and ring settings. This makes it easy for you to design your gemstone jewelry as per your aesthetics. The preset jewelry collection is one of the key attractions at GemsNY, where you can quickly grab a lovely piece of jewelry from the pre-designed preset jewelry collection. This will help you save a lot of your time if you don't want to design your jewelry by yourself. The company offers you to design your own jewelry in all metals, including white gold, yellow gold, rose gold, platinum, and silver.    
Largest Collection of Natural Gemstone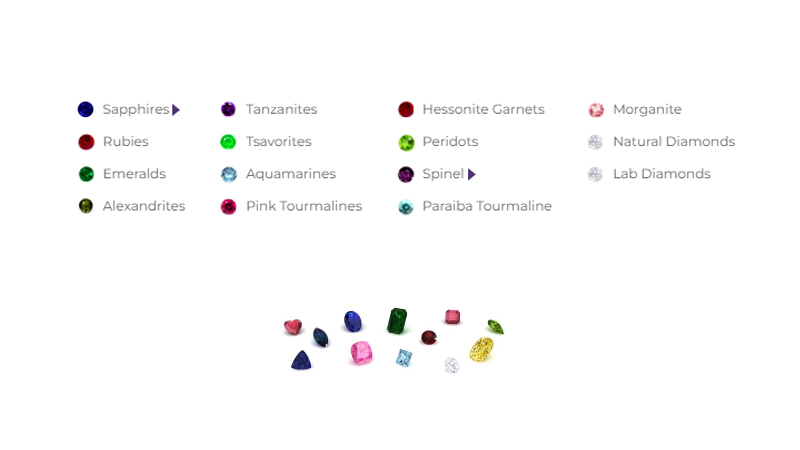 Through this section, you can explore GemsNY's enormous collection of gemstones with different quality grades. If you only intend to buy loose gemstones, you don't have to be confused; you will see the loose gems option on the top of the home page. The price of the gemstones is sorted by size, carats, and grading, which makes it simple for you to buy the stone of your choice.
Make Your Own Diamond Jewelry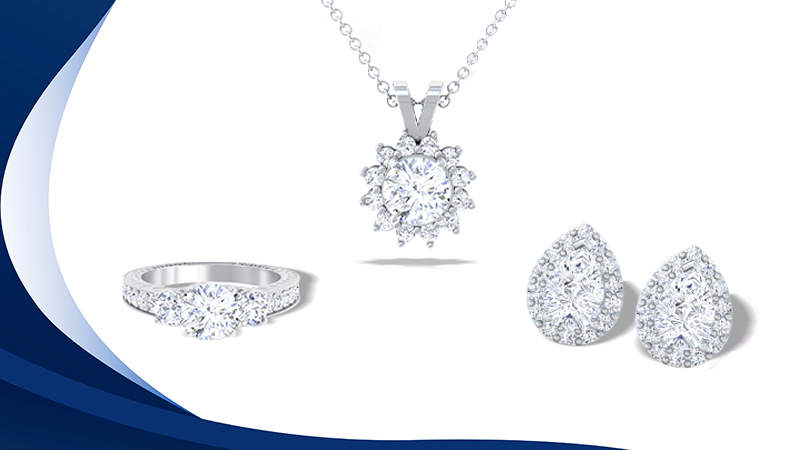 Through this section, you can design your own diamond jewelry using different settings. This section gives you two options in diamonds: natural diamond and lab-created diamond. You can pick either of the diamonds to design your gorgeous diamond jewelry. Here you can design rings, earrings, and pendants only, but if you want to design a bracelet, then you have to follow the custom jewelry process. GemsNY provides certificates from reputed institutes like GIA and IGI for the diamonds it sells.   
After navigating down a bit, you will see the fine jewelry collection of GemsNY. Here, the company showcases its beautiful collection of gemstone bands, men's metal bands, women's metal bands, and bracelets. You can get a designer gemstone band flanked with diamonds in this section. You can also embed only diamonds in your metal band if you want.   
The metal bands for both men and women are gorgeous. The company offers metal bands in different metal options: white gold, yellow gold, rose gold, platinum, silver, etc. These metal bands can be a perfect gift for those men and women who like to wear simple yet sophisticated rings.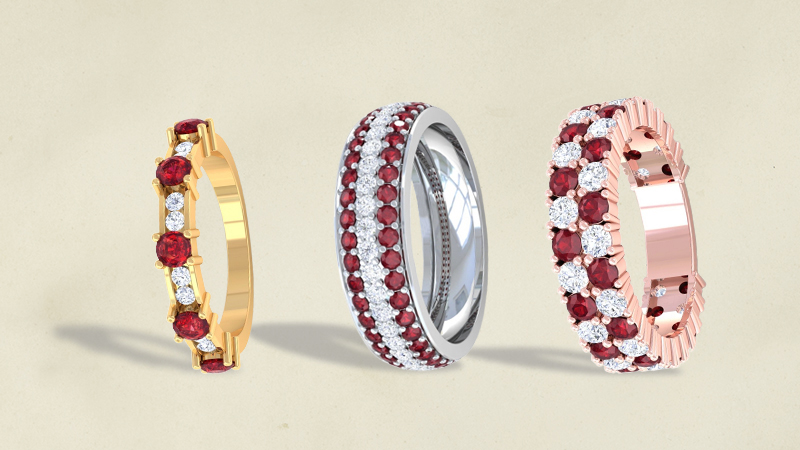 The tennis bracelets in the fine jewelry collection are very stylish. Pink sapphire, blue sapphire, and diamond tennis bracelets are among the top-selling bracelets that are loved by GemsNY's customers worldwide.
Of course, price is the factor that affects your buying decision. After evaluating the price of the company's products with other competitors in the market, we have come to know that GemsNY sells affordable and top-quality jewelry.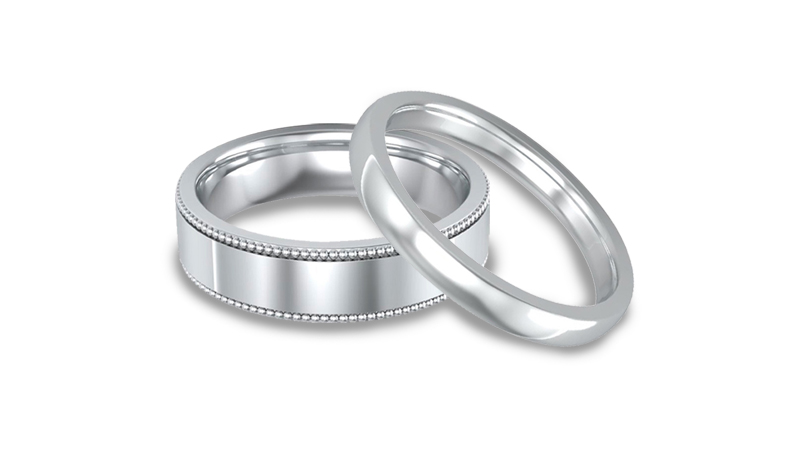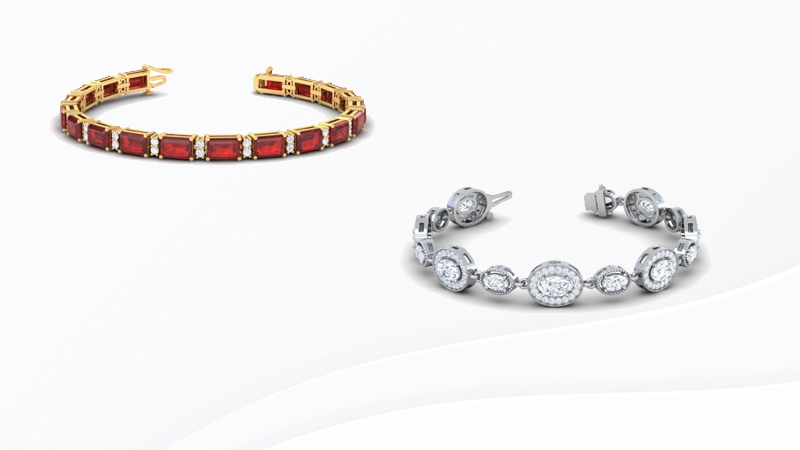 If you don't enjoy the process of designing your own jewelry or don't have enough time for this, then GemsNY's preset collection is for you. Its curative pre-designed rings, earrings, and pendants eliminate the designing process and save your time.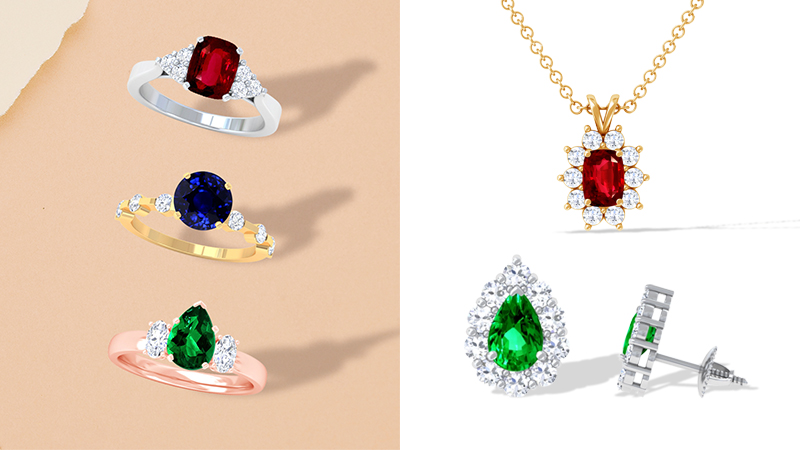 If you look at the preset rings, the company has designer engagement rings in beautiful ring settings. The company has its present rings, earrings, and pendants in three precious gemstones: Rubies, Sapphires, and Emeralds. These three gemstones are among the popular gemstones that are appreciated by women. The preset collection of GemsNY is available for the customers at an economical price compared to other competitors in the market. 
The negative point in the preset collection of GemsNY is that the company doesn't have any diamond jewelry in the preset jewelry collection. If you want a piece of diamond jewelry, you have to design it using the make your own jewelry feature. Though, the process of designing a piece of jewelry is a bit time-consuming.   
Ruby, sapphire, and emerald jewelry are three top gemstone jewelry that is loved by the customers of GemsNY. The quality of products has been appreciated by its customers worldwide. The enormous collection of beautiful pendants might make you add one to your jewel box.  
Let's Start Exploring The User Interface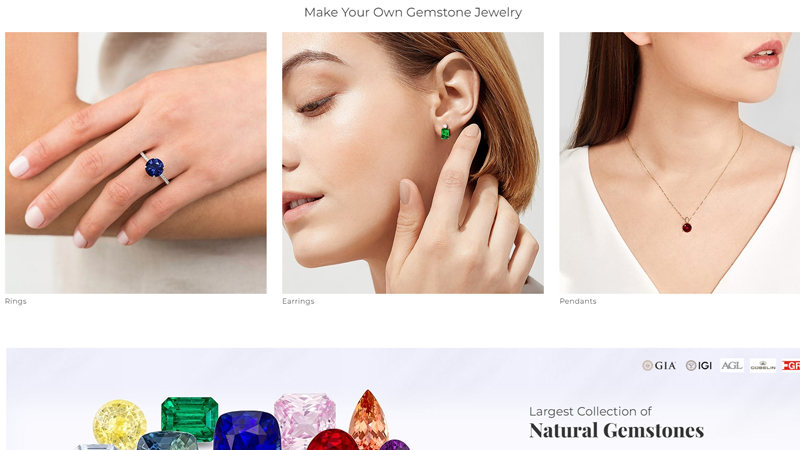 After browsing the website of GemsNY, we have observed that the home page of the website is user-friendly. You can easily sail through the website and find a perfect piece of jewelry for you. On the top of the home page, there are many sections with different features. Let's get started with each section. 
The first tab on the top of the home page is of loose gems. There you will find all types of natural gemstones, including lab-created diamonds. It might be shocking to you, but the company has more than 50,000 natural certified gemstones in its active stock. GemsNY's huge range of gemstones includes both treated and untreated gemstones. We were able to find relevant certifications from reputed laboratories for most of their gemstones available right along with them. But for some other gemstones, we couldn't find their certifications. So, you probably need to request for a gemstone certificate if you buy from them. 
With GemsNY, you also get the advantage to view their gemstones & jewelry settings in 360 degrees. This allows the viewers to have a better understanding of how a gemstone or jewelry setting looks in real life. The precision of their 360 degree videos is impeccable. Viewing their loose gems in 360 degrees feels as if you're actually holding them. The company also has a designer collection of jewelry settings which you can choose to get yourself a piece of perfect gemstone jewelry. 
This tab is dedicated to buying natural and lab-created diamonds. You can also design a piece of beautiful diamond jewelry here. Also, you can shop and buy loose diamonds in any shape and size you want. Even though the process of designing diamond jewelry runs pretty smoothly sometimes we experienced a lag in processing commands. You have to start the process all over again because of some technical interruption during the process.
Right next to the diamond tab, you will see the sections of rings, engagement rings, bands, pendants, earrings, and bracelets. These sections allow you to design your colored gemstone jewelry and take away the element of complexity in designing your ideal jewelry. The company offers you different metal options for designing your own jewelry. GemsNY has ready-to-ship products where they already have an inventory of some gorgeous gemstone jewelry. You just have to add the product to your cart, and the product will be delivered to your home in a couple of days.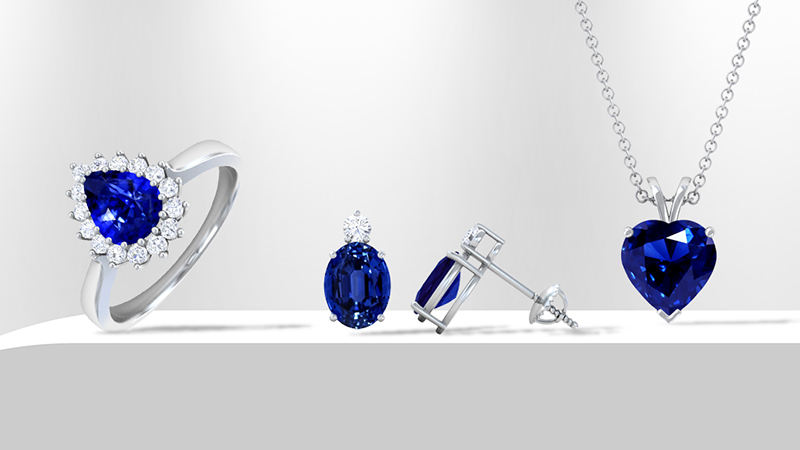 The preset jewelry collection of GemsNY makes it easy for those customers who want to save their time and take pre-designed jewelry to their homes. The company only has sapphire, emerald, and ruby jewelry in its preset collection. There should also be a focus on adding diamonds to the preset jewelry collection.  
This is one of the sections that help you know about different gemstones, including their origin, mineral components, 4 Cs factors, history of the stone, and much more. If you are new to buying a gemstone and want to know a little bit about the gemstone you want to buy, then this section is dedicated to you. 
This is the last section that tells you about the referral and sweepstake benefits. To attract more customers to the company, GemsNY has some loyalty programs where if you subscribe to its text, you get an additional discount of $50 on your next purchase. You can avail more discount offers by referring GemsNY to your friends and can get a $75 discount on shopping with GemsNY. Moreover, you can get $50 off your first purchase if you shop from the company's New Jersey store. The company also runs sweepstake benefits for customers where a piece of jewelry is given.
Additional Information
Additional information includes flexible financing, jewelry insurance, GemsNY blog, stone and ring size help, diamond education, return policies, warranty, live chat, etc. You will find this information at the bottom of the home page. A big advantage of shopping at GemsNY is their 'Extended Holiday Return Period'. Let's take a look at it.
Extended Holiday Return Period
GemsNY spares no effort in attracting customers. They have a '30-day money back return policy' that makes you shop with confidence at GemsNY. But there's more to their return policy than meets the eye. As per GemsNY's 'Extended Holiday Return Period', return period for orders placed on or after September 30, 2023 is extended until January 15, 2024. However, diamonds and diamond jewelry are excluded from the extended return period and the standard return period of 30 days is applicable.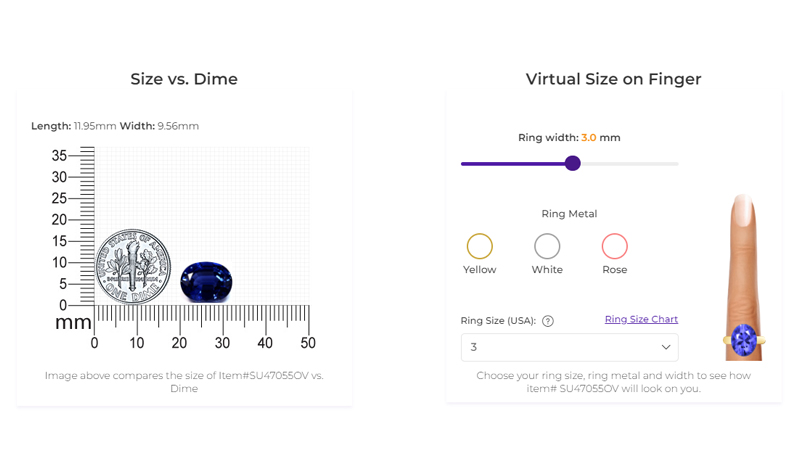 Stone Size Tool is probably one of the best features GemsNY has on its website. This tool helps you to compare and get a relative idea of how your stone will look on your finger according to your finger size.
In 'Stone Size Tool', there are some dynamic features where you can select the length & width of the gemstone, and width & size of the ring to get a better perspective of the ring. The finger length feature makes it easy to get a very close idea of your ring. 
Select your finger size & skin tone, and then proceed with the other features to see how your dream ring will look.  You can play around with all the parameters to compare the look of the stone or the overall look of a ring with different metals etc.
If you're not sure about your ring size, then GemsNY's ring size chart will help you know it. The chart will tell you some easy ways to know the exact size of your ring.
How to Buy from GemsNY
Buying from GemsNY is very easy. Visit the official online store and explore the wide range of loose gemstones. Design your own jewelry using the customization feature. The gemologists on staff will be happy to help you get your dream jewelry. 
You may also book an appointment with the in-house experts at GemsNY to get help in customizing your dream jewelry. 
Pros and Cons of GemsNY
After a thorough review of GemsNY, we have listed some positives and negatives of the company.
Positives of GemsNY
The user interface offers complete flexibility to select the gemstone, design, metal, etc.
Free personal consultancy to customers
30-day free return policy
60% to 70% less costly gemstone compared to other retailers in the market
Smooth shopping experience
Best preset engagement ring collection
Shipping time is expedient
Certified gemstone jewelry
Negatives of GemsNY
No free return policy for international orders
Limited information about lab-grown diamonds
It takes some getting used to with 'Make-Your-Own jewelry process' due to many parameters
On the search tab, you have to use product code to search for any product which is not possible for a customer (to know the code of the products).
There is no pagination when it comes to browsing products. You need to scroll upward if you want to look at a product you have already seen.
The website doesn't allow you to change the tab while you're looking for any product. This might irritate you a bit when you want to see many products simultaneously on different tabs.
Customer Review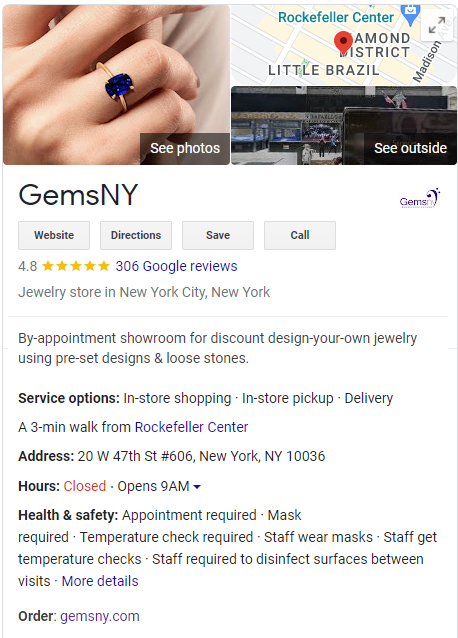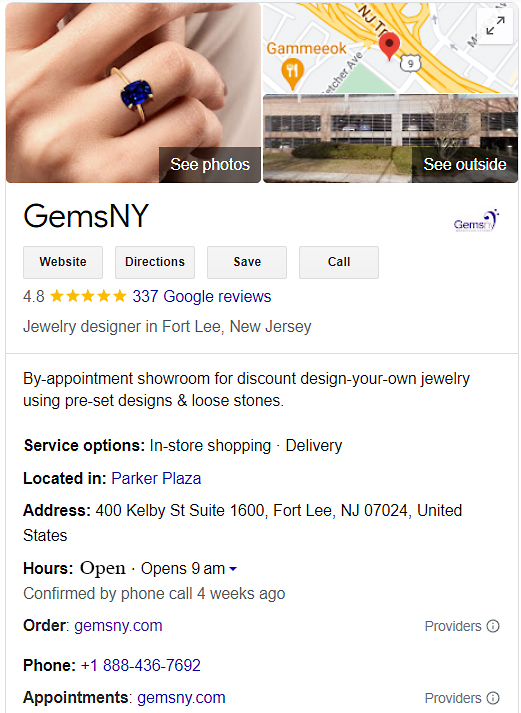 GemsNY has been rated on many platforms, such as Google, Shopper Approved, Trustpilot, Tripadvisor, Sitejabber, Weddingwire, and Yelp. We have seen thousands of positive comments from customers where they are happy with the product and service of GemsNY.  With an average rating of 4.9, it has been proven that customers believe in the product quality of GemsNY. You may visit the review section of GemsNY to see how happy and satisfied customers are with the company's services. For instance, here you can see one of the reviews by a happy customer of GemsNY:
"Worked directly with GemsNY Representative to pair a heart-shaped setting with a 4.57 carat AAA heart shaped Aquamarine. We had two larger stones to select from. The Representative took the time to actually compare the appearance of the two in the setting and recommended the smaller of the two… even though it cost less…. Good business. Couldn't be happier with the stone and yellow gold Florentine setting."
GemsNY Reviewed By Brands
Check out the ratings of GemsNY on various platforms:
| | |
| --- | --- |
| Platform | Overall Rating |
| Google | 4.8 |
| Yelp | 4.8 |
| Trustpilot | 4.6 |
| BBB | 4.78 (A+) |
| Shopper Approved | 4.9 |
| Sitejabber | 4.69 |
| Facebook | 4.9 |
| WeddingWire | 4.7 |
Final Verdict: Should You Buy from GemsNY?
Yes. GemsNY is the right place to go if you want to buy authentic jewelry at a pocket-friendly price. The team at GemsNY is totally dedicated to serving its customers. Overall customer satisfaction is the topmost priority at GemsNY. 
Every piece of jewelry at GemsNY.com reflects the commitment of the company to quality and craftsmanship. You will certainly find top-quality products at extremely competitive prices. If you wish to buy certified natural gemstones, don't worry, GemsNY Reviews has got you covered here.