Who does not love traveling? The reasons to plan a trip could be any, you might be attending a business fair, planning to visit your family, or taking some days off work to relax. No matter what the reason is, the excitement and adventure of exploring something new never fade away.
Whether taking a relaxed walk alongside a sunkissed beach or wandering in the streets of high fashion, the thrill is over the top. Taking a relaxed nap in the lush green valleys or sipping hot coffee while being wrapped in a cozy blanket in snow-capped mountains gives a similar level of fulfillment and peace to body, mind, and soul.
But what's another thing that is common in all of this? Yes…It is the feeling of looking great, putting on stylish accessories, and sporting fashionable apparel, in short, giving yourself a complete makeover…isn't it???
Well for this very reason, we have compiled some latest travel fashion tips for women out there who are taking some sweet time to explore new trends in the world of travel and fashion. So let's dive deeper into the ocean of leisure and hunt the hidden fashion & jewelry treasures.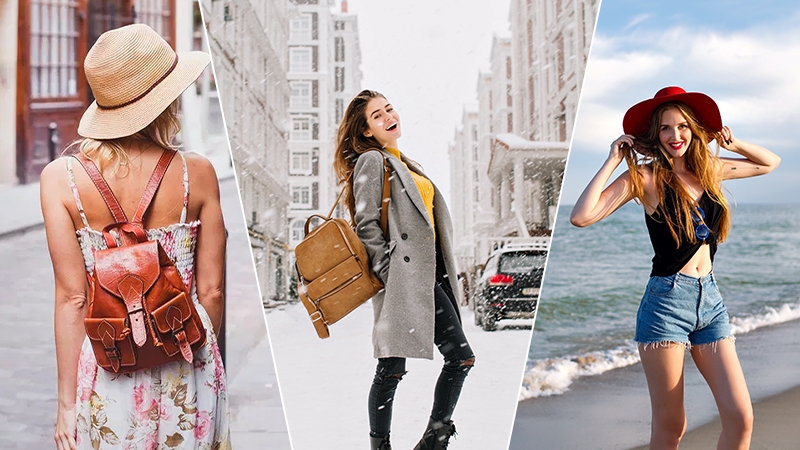 Clothing Fashion Tips for Women
Looking for perfect travel clothing for women? Well, there is nothing like "perfect" when it comes to attire since it depends on the wearer what they feel most comfortable in. But to make things manageable for you to begin with your vacation packing, we have listed the best women's clothes for travel. Find out how much you could relate it to your style and fashion sense.
Winter Travel Fashion
Well…if you have planned to chill at some chilling hill station, then wear as much as possible to take the chill off. The extreme change in weather conditions can cause serious health issues so don't you ever think of shopping for maxi dresses or mini skirts for your vacation to a place that is too cold for your body to bear. But don't worry, you can still flaunt high-class fashion in such harsh weather conditions…let's check out how!!!
Coats, Cardigans & Jackets: Shop for an oversized cardigan sweater that can go perfectly well with long-sleeve shirts, pants, jeans, etc. especially when you are on a flight or lounging. Soft and fluffy fur or wrap coats are not only classy but keep you safe against chilly winds. For a dapper look, opt for a classic black leather jacket or get wrapped in a dark-toned blazer, and guess what…both of them are the best choices over dresses, jeans, or even long skirts.
Cozy Multipurpose Wear: Getting comfortable and cozy clothes for winter trips is too important to ignore so cram your suitcase with bright-colored 2-piece sweater sets along with a woolen hoodie and trousers. Cozy innerwear will keep you active and warm from shivering or getting sick if you don't want to spoil your dream trip.
Summer Travel Fashion
Summers are sticky, stinky, dehydrating, and whatnot??? While you love to wear less and light, you are also cautious about the sun playing hide and seek with your skin and leaving you with sunburns and tan by the time you are saying goodbye. But don't panic, there's still a way to glam up all you want while giving the scorching sun a cool farewell. Wondering how…come on, read below to find out.
Chic Floral Dresses: The best outfit for summer travel destinations is maxi dresses, sun dresses, tank dresses, and short dresses. Geometrical and floral patterned pastel-hued half or full dresses can make you feel no less than being in heaven. No matter whether you are strolling on the beachside or wandering around bustling markets tasting local cuisines, these dresses suit every outing. In fact, they are a complete outfit in themselves and save you a lot of space in your suitcase for other accessories.
Versatile Shirts & Tops: Shop for some pastel-colored T-shirts and sweatshirts with light patterns. Opt for plain tops in subtle and contrasting shades without patterns which could be paired up with suitable lowers. Do carry simple tank tops made up of odor-resistant and breathable fabric. And how can you forget to load 2-piece dresses (matching shirts and trousers) in your favorite color and print?
Funky Jackets: How about opting for lightweight cotton and denim jackets that you can wear over dresses, t-shirts, tank tops, etc.? To prevent getting sun-tanned, stuff your travel bag with jackets in classic black, hot pink, pristine white, or aqua-blue colors for a super cool look.
Comfortable Lowers: For a summer trip, loose and light-weighed lowers along with track pants, leggings, joggers, ankle-length jeans, cotton pants, rugged denim shorts, and cotton long skirts are what you could select as comfy lower wear.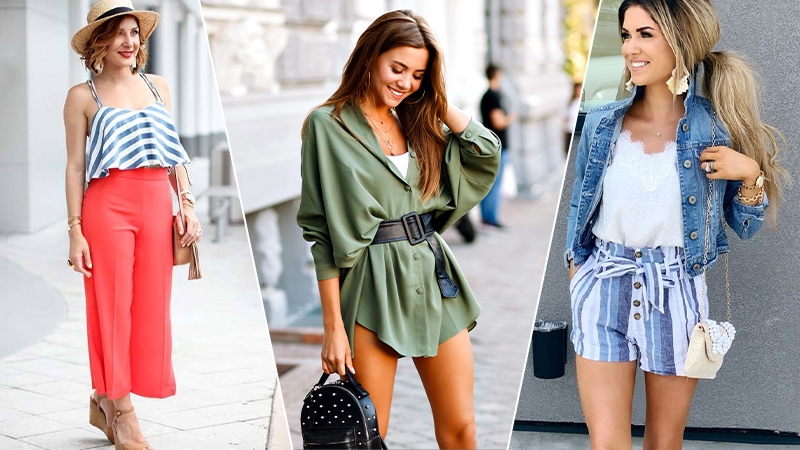 Cool Travel Fashion Accessories
Well…honestly speaking there is no way you could avoid the sun in summer or get rid of snowflakes in winter although, you will rather have to adapt yourself to the weather conditions. But since when changing seasons and weather conditions have stopped women from styling themselves? So here we go with some attractive contemporary fashion accessories to make your vacation extra sassy.
Dressy Scarves, Sunglasses, Hats & Gloves: Give a fine touch to your travel outfit with woolen or floral scarves, whatever you think you would need for your vacation. Summer and beachside holiday pictures would be incomplete without sunglasses and tote hats. Similarly, make sure to pack beanie caps and gloves for a snowy vacation. These simple pieces of clothing can shield you from unfavorable weather conditions and add a tinge of vogue to your travel look.
Restful Footwear: Choosing travel footwear is as thoughtful a part of planning a trip as picking the clothes is, after all, you won't be running around in home slippers while traveling. You need to be very cautious while selecting your shoes so that you don't have to pack them in your suitcases just to take ample of your already little space…right?
The best deal for travel footwear is multi-purpose sneakers that are easy to walk in and can go with any casual attire. Other choices can be ballet shoes, flat sandals, or flip-flops. Avoid high heels or boots, they will surely cause discomfort after a while and will be a burden to pack.
Spacious Handbag: Women need quite a look of things handy, especially while traveling. These range from water bottles to wet wipes, mouth fresheners to medicines, cash to credit cards, and even essential toiletries. So you might need a large spacious handbag made up of waterproof material with several pockets. However, many prefer to keep cross-body bags these days since they are quite adjustable and can be strapped around your body, though they are too small to accommodate several things together.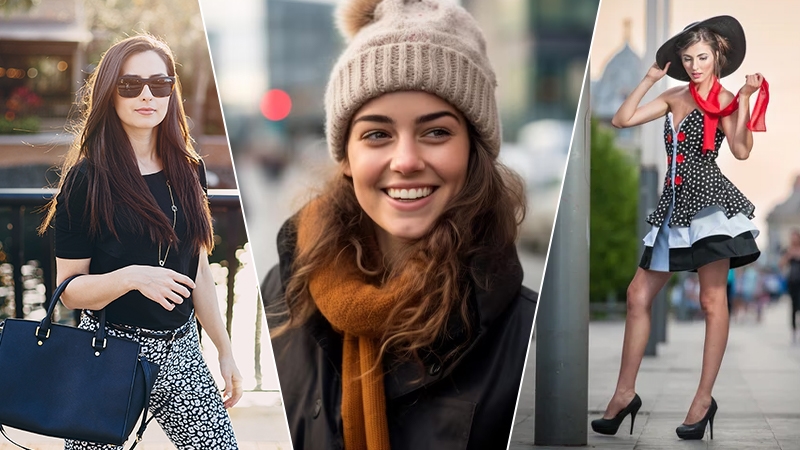 Travel Fashion Jewelry Treats
And how can you possibly travel without adorning yourself with jewelry even a little? You surely deserve a jewelry treat to trend on family chat groups and among your friends on social media. So to give your craziness a kick, here we present you with some travel fashion jewelry ideas you can't agree enough with.
Shell & Beaded Jewelry: Want to try out something novel and dashing? Go for shells and colorful beaded jewelry for tropical vacations. The shells and beads are not only lightweight but also quite attractive to pair with casual wear. Go for chunky or minimalistic earrings, bracelets, necklaces, etc., embellished with colorful beads and shells of different shapes & sizes and redefine your fashion sense.
Evergreen Metal Jewelry: You can always opt for sophisticated metal rings, chain necklaces, link bracelets, and statement earrings in your favorite metals for a perfect snappy finish. These accessories will look especially good with 2 piece sets or combinations of sweatshirts & pants. Pearls and diamonds can also be your best travel buddies as long as you give them the utmost personal attention.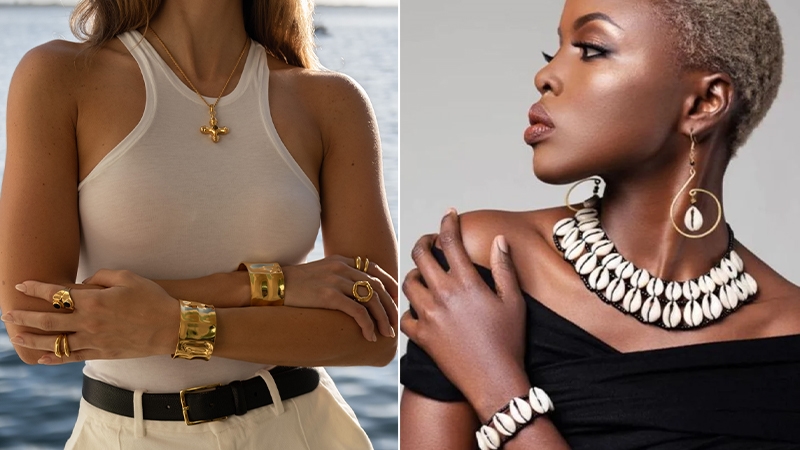 End Note
Trips are always fun, especially when they are planned with friends or family. The experience is too awesome and thrilling to express in words so of course we take lots of snaps to lock the moments for life. We simply can't deny that traveling is one of the best occasions to wear the prettiest but most comfortable attire and sport the latest fashion trends.
Hope you have got some exciting insights about travel fashion tips for women after reading this blog. For more fascinating content on lifestyle, weddings, fashion, technology, jewelry, and more, keep browsing FadPost!!!