Jewelry has always been the shortest way to a girl's heart. Whether you leave it to your soon-to-be spouse or both of you shop for it together, you will come across the changes in engagement ring trends that come every year. Just like your love, your engagement ring should be of fresh yet everlasting design. We'll be seeing a mix of all trends in 2023 as there's no one style that fits all. Here are the top 6 engagement ring trends you'll be dying to get your hands on. 
You and me, always together 
Marriage is about you and the person you choose to spend your life with. Everything at your wedding should reflect that, especially your engagement ring.
In French, toi et moi means 'You and Me'. The Toi et moi engagement ring is essentially a two-stone ring representing the coming together of two individuals. People around the world are usually seen choosing uniquely cut diamonds and gemstones to elaborate on the love story that is being expressed with the two different gemstones.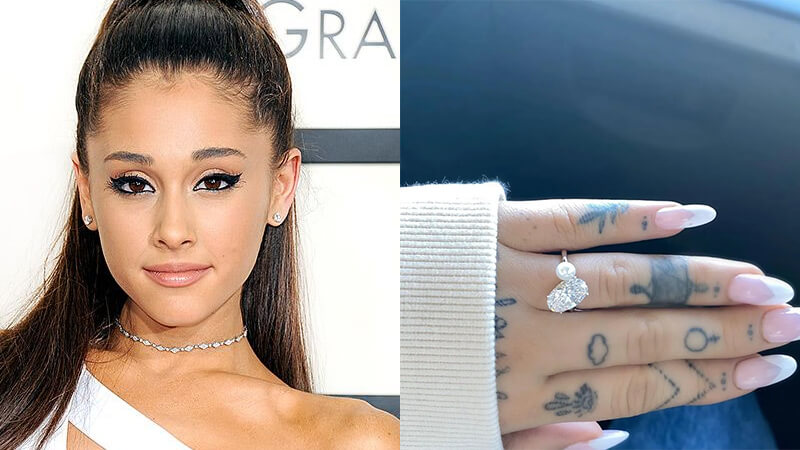 Celebrities like Ariana Grande, Meghan Fox, and Kylie Jenner have been flaunting their toi et moi rings ever since they got 'em and we know all of us were in awe; so why not get one for yourself as well? 
Splash of colors 
Diamonds are a girl's best friend for sure but for some, a color gemstone is something that's been on their mind. It's been a long time since we've seen everyone flaunting their diamond rings. It's time you brought a pop of color to your engagement ring to stand out from the rest. Color gemstones are currently having a moment, alluring couples to pick a bright and unique stone that matches their love story. 
You might not be aware of this, but gemstones hold some powers and energies that can be helpful for the wearer and people related to their lives. Sapphire, Ruby, and Emerald are among the top favorites in the gemstone engagement ring collection. These mesmerizing diamond and gemstone halo rings are beyond perfection for a stand-out bride. This is something you need to get your hands on. Hope you'll choose the right color for your dream engagement ring.
Till death do us part 
Just like the vows you'll be taking on the wedding day, an engagement ring should be the same; everlasting and enduring. Vintage and antique-inspired engagement rings are at the forefront of the industry.  You are lucky enough if you can incorporate an heirloom. Having preloved jewelry by a family member can be a good choice for the couple to move into this new phase of life; integrating the blessing and love of their ancestors. 
But don't be disheartened, you can always design your own one-of-a-kind ring and be the grandmother who leaves such beautiful and everlasting pieces for the coming generation.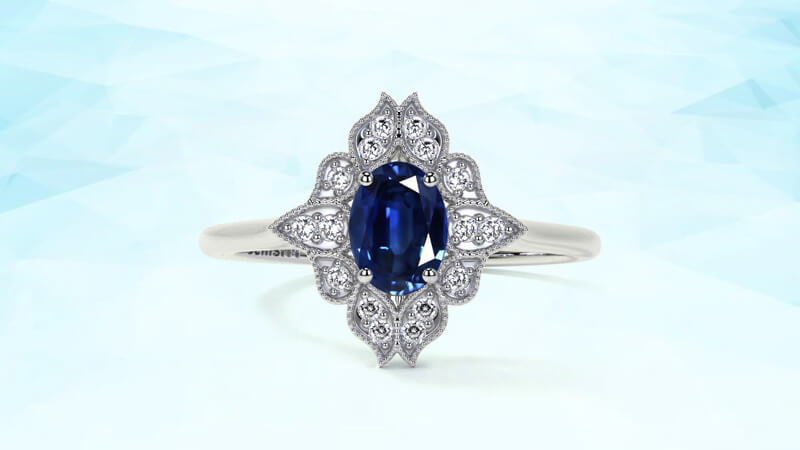 Vintage-inspired rings are all about creating your own personal style and adding a sentimental value to your ring reflecting the love you and your partner share. 
Be very mindful of the quality of the metal, and hardness of the gemstone as the ring is going to be with you until death sets you apart from it. 
Out of the box
Who wants to stick to having a commonly worn engagement ring? Couples these days are breaking the mold and opting for a one-of-a-kind setting. If you are someone who is a little bit less traditional, but looking for just as sparkly, fancy-colored diamonds can be a good choice. These are very popular in jewelry fashion as they come in all shapes & sizes and are valued more for their intensity and distribution of colors. 
If you want to showcase your individuality and express yourself better, diamonds in non-traditional colors are your best choice as they are quite rare and can add the right amount of uniqueness to your ring. Black diamonds are the perfect example of forever, they are mysterious, and powerful and can be a great shift from conventional diamonds. A delicate pink or yellow diamond would represent the bride's womanliness; on the other hand, a deep gray diamond symbolizes hope. 
For a classic look, an angular halo, baguette diamond-size stones or a pave setting can be a good option.
Good things come in sets 
What's better than giving her one ring? A wedding set. The list of engagement ring trends for 2023 can not be completed without having a bridal wedding set. They come in diverse shapes, designs, materials, and different gemstones as per the bride's preferences. Wedding sets are modern and allow you to be creative. For brides who love colors, this is the apt way to stack a gemstone solitaire ring with bands alongside and give it a magic touch.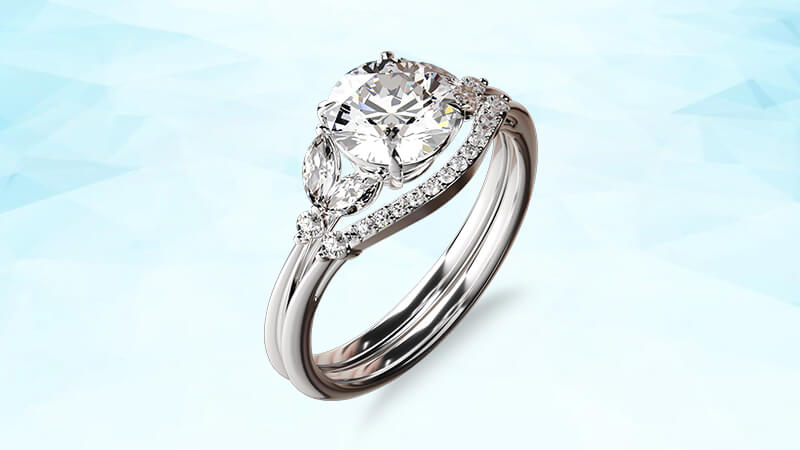 If you're planning to propose soon, giving her one piece of the set as a promise ring can be a good option to drop a hint that you'll be proposing soon. This will keep her excited for the coming event. 
The more, the merrier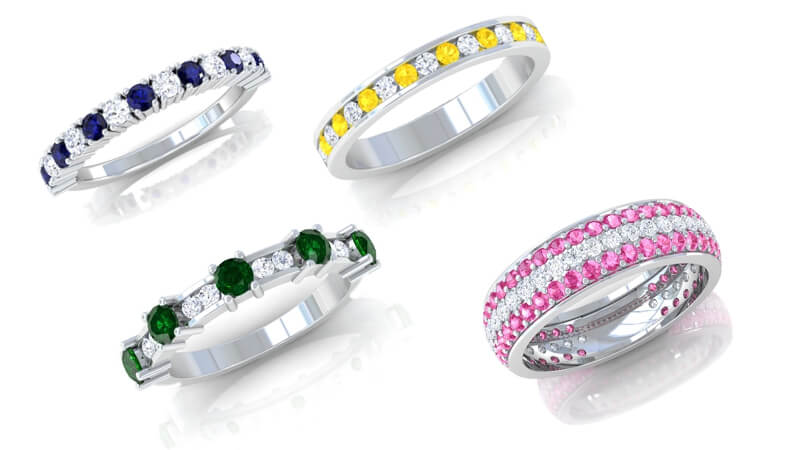 Comfort comes first! If your girl is someone who loves simplicity, eternity bands will be an optimal choice for her engagement ring. Engagement ring designs are endless and can be very unique as not all engagement rings are solitaires. If it's your style, single-band engagement rings are the most popular ones. An eternity band has small diamonds throughout the ring instead of having a center stone. If you wish to add more sparkle to your finger, matching a wedding band with your engagement ring can add some extra bling to your hand. 
Just as the name suggests, eternity bands signify everlasting love for your partner and why would you not want to tell your partner that? 
Eternity bands are very popular for their comfort on the fingers and the fact that they can be styled alone or stacked with other rings as well; they will definitely make you stand out. 
Planning for your proposal can be a bit of a task and keeping up with the current engagement ring trends makes it harder; but if you know your to-be-partner well, it gets easier and an effortless journey. We hope this was helpful and look forward to hearing about your proposal story real soon. We know it's going to be a YES!!