Taking your relationship to the next level is exciting and overwhelming at the same time. It marks the beginning of a new chapter for you and your partner. But before embarking on this new journey together, there's something you have to do; popping the big question and putting a ring on her finger. Have you found the perfect ring for the occasion?
An engagement ring symbolizes your eternal love and commitment to your significant other. So, you are probably looking for a ring that is unique and perfectly captures the essence of your relationship with her. While you can find plenty of readymade rings, there's no guarantee that they are exactly what you are looking for. That's where customization makes the heroic entry.
If you are set on getting your hands on a ring that fits your unique description, here's how you can design the perfect engagement ring without breaking the bank.
Set A Realistic Budget 
It is understandable that you want your engagement ring to be the perfect representation of your love and commitment. 
Many people assume that getting a customized ring costs more than a ready-made one. However, that is far from the truth. You can be lenient on your pocket by setting a budget before you start designing the perfect ring. That's because we can easily get carried away and go overboard while designing the ring, which can take a heavy toll on the wallet.
When you set a budget, you still have many but limited options to choose from. You don't overspend and take a financially responsible route.
Have Some Design Ideas In Mind
Are you considering exploring the in and outs of engagement rings in detail? Not only would it confuse your mind more, but it will also be too time-consuming. Instead, you can share your ideas and leave the rest to the jeweler, as most customers do. 
However, coming up with a ring design isn't as easy as it appears. You want everything to be perfect, down to the last details. The best approach to get started with this is by drawing inspiration. You can discuss this with your fiancé and get her opinion on what kind of ring she'd like.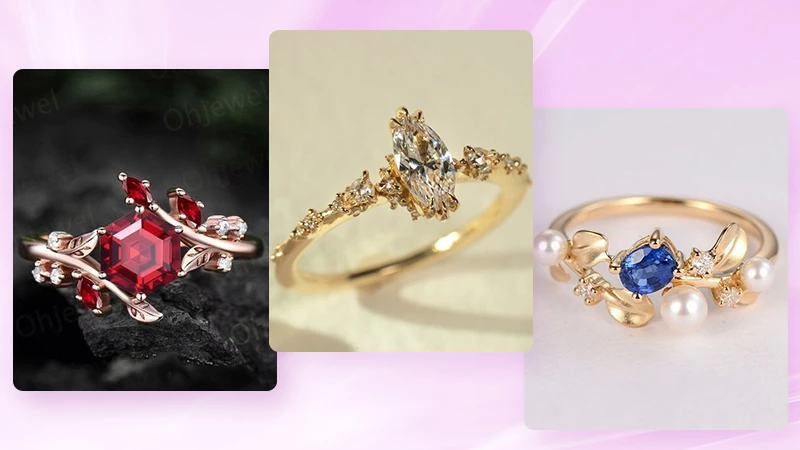 Together, you and she can come up with designs and even photos of rings for reference before designing the dream engagement ring.
You can also get some ideas and inspiration by checking out your chosen jeweler's work portfolio. They might have made custom rings for their previous clients. By going through the portfolio or custom gallery, you can take some ideas as well as learn the quality of your jeweler's work.
Get Acquainted With The Ring Styles
Now that you have your budget set and have a rough to fair idea of what kind of ring design you want. Let's get started with the actual design part!
There are various engagement ring styles. Let's take a look at these popular ones:
A solitaire ring style features a single focal gemstone.

A halo ring features a single focal gemstone that is encircled by a halo of smaller stones, generally diamonds.

A vintage ring draws its design inspiration from classic designs, usually Art Deco.

A bezel ring setting keeps the gemstone in place with the help of a ring of metal.

A prong ring setting keeps the stone in place with metallic claws.
Apart from these, you can also find various other ring styles.
Choose The Focal Gemstone
Designing a custom ring offers you the complete freedom to do things your way, from the choice of gemstone to their size, carat, color, cut, and more. Since you can find engagement rings for women in different styles, ranging from solitaire to multi-gemstone ones, it is best to start with your focal stone.
You can find various gemstones, such as diamonds, rubies, sapphires, alexandrite, emerald, etc. Pick a stone that best represents the love and bond you and your partner share. If you are going for a ring with multi-gemstones, it is best to pick a colored stone as the focal gemstone and add diamond accents. 
Know the 4 Cs
While hunting for the perfect gemstone for your ring, you need to keep the 4 Cs in mind. 
The amount of light that refracts back out of the crown of a stone depends on how it is cut. For instance, a precisely cut gemstone reflects light well, producing a sparkly impression. A gemstone with a flawed cut, on the other hand, absorbs light. However, it still has some shine and shimmer.
Inclusions, which are minute flaws left behind from mining and cutting processes, are frequently present in mined gemstones. Clarity refers to how few inclusions are there on a stone.
When referring to a gemstone's color, it describes its quality and purity. There are multiple standards for evaluating color based on the stone. Your jeweler can tell you more about it.
The technical term 'carat' refers to the size of the gemstone. It is one of the 4Cs to consider when choosing a stone for your ring.
Select A Metal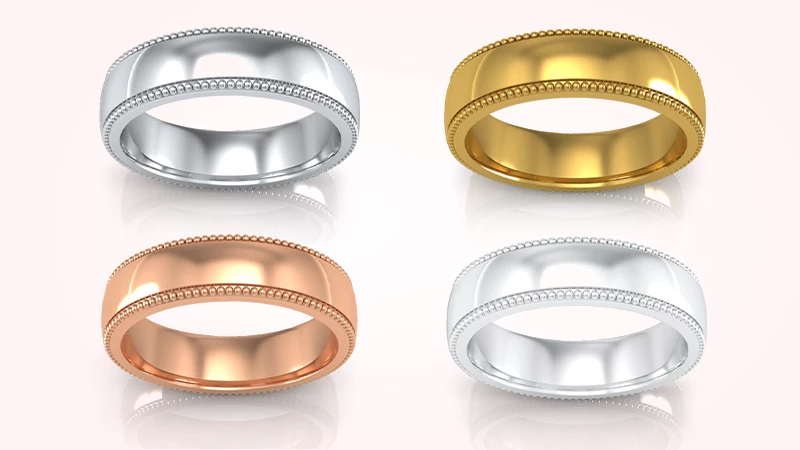 Have you picked the perfect focal stone and side stones for your ring? The next step is choosing the metal for your engagement band. If you want a simple band, you can choose anything from platinum, sterling silver, rose gold, white gold, or yellow gold.
If your budget allows, you can have a fancy engagement ring embedded with tiny stones.
Work With A Reputed And Trusted Jeweler
Now that you have a pretty good idea about designing a ring, all you have to do is find and work with a trusted jeweler who can help make and deliver your perfect engagement ring!
Designing Your Dream Engagement Ring
Your proposal is going to be a memorable event that you and your significant other will remember for a lifetime. So, why not make this already special moment extra special with a personalized engagement ring for the woman of your dream?