The Met Gala is one of the much-awaited events. Each year, we sit in excitement and anticipation to get a glimpse of the eccentric and trendsetting celebrity looks. Although the Met Gala event for this year took place on 1st May, know what's in store for you in the jewelry section if you haven't had the chance to check out the pictures or clips yet!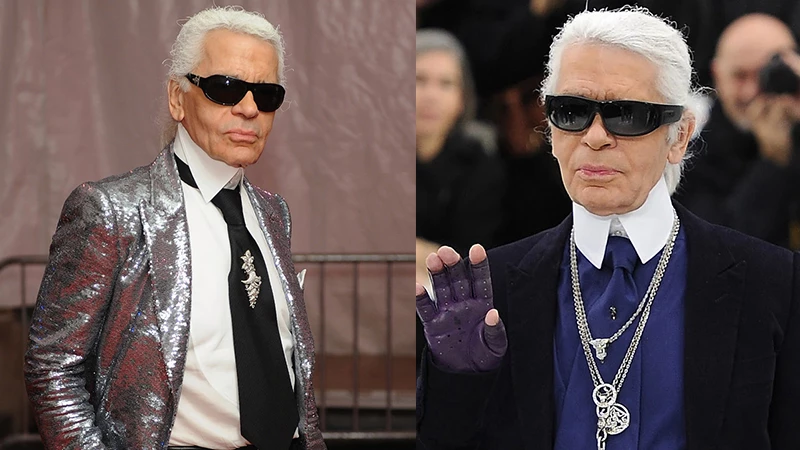 "Karl Lagerfeld: A Line of Beauty" was this year's Met Gala theme. Celebrities blew our minds with their best Karl Lagerfled-inspired looks in honor of the late fashion designer, where three celebs even came up with avant-garde outfits and makeup featuring Karl's precious cat, Choupette.
We even witnessed many dazzling Met Gala jewelry looks featuring yellow gold, diamonds, and pearls. The men also made heads turn with their stunning jewelry looks. But what caught most of us off guard and in amazement was the iconic unveiling of Tiffany's 100-carat diamond necklace!
While we can go on and on about the different jewelry looks we saw at the 2023 Met Gala event, here are our top picks!
Dua Lipa in Tiffany & Co.
If you haven't kept up with what's happening in the jewelry industry, here's what you missed: Tiffany & Co. recently celebrated the remarkable reopening of its newly renovated flagships. So, it was only fair for them to seize the opportunity and draw more eyes to them on the Met Gala carpet.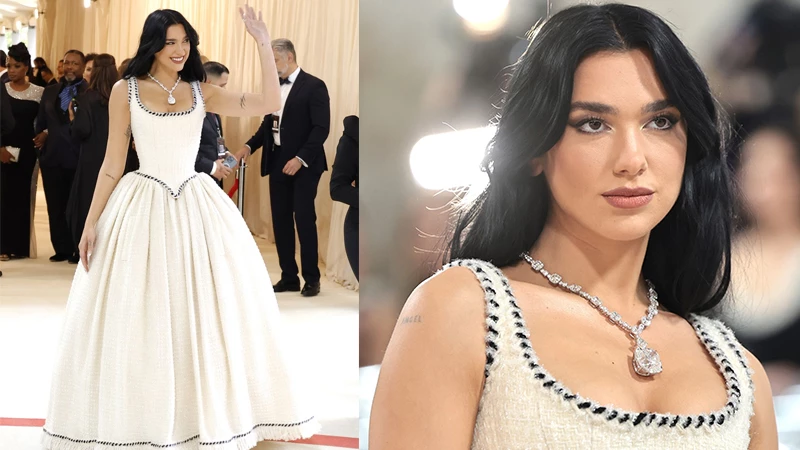 Dua Lipa, our Levitating song star and singer and one of the event co-hosts, made a bold statement with the iconic Tiffany jewelry. She donned a stunning diamond necklace with a white "Legendary" diamond weighing more than 200 carats. It has a cushion cut similar to that of the popular Tiffany yellow diamond.
The diamond stone is mounted in the company's diamond Lucida Star necklace. She completed her look by wearing jewelry pieces designed by the American Jeweler. These included a platinum ring that was more than 9 carats and Schlumberger rings. Her jewelry did a fabulous job of accenting her egg-shell colored vintage Chanel gown!
Doja Cat in Messika
It seems like Doja Cat took the latter half of her stage name quite seriously in the 2023 Met Gala event. As it turns out, Karl Lagerfeld's cat, Choupette, was her costume-outfit inspiration.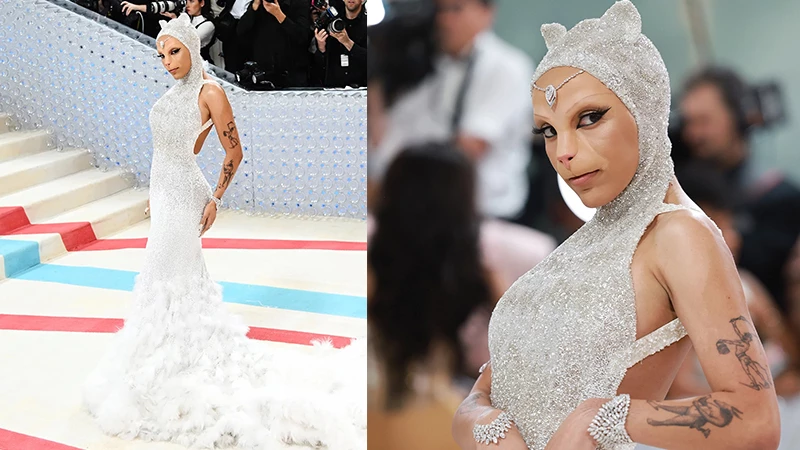 She made a big splash on the Met carpet in her Oscar de la Renta gown with beaded details, a hood, and cat ears. But that wasn't all! She also wore makeup that gave the impression of a cat's nose. 
She finished her look with beautiful diamond jewelry pieces, which included a valuable and impressive headpiece, rings, bracelets, and an armband by Messika.
Dwayne Wade in Tiffany and Co.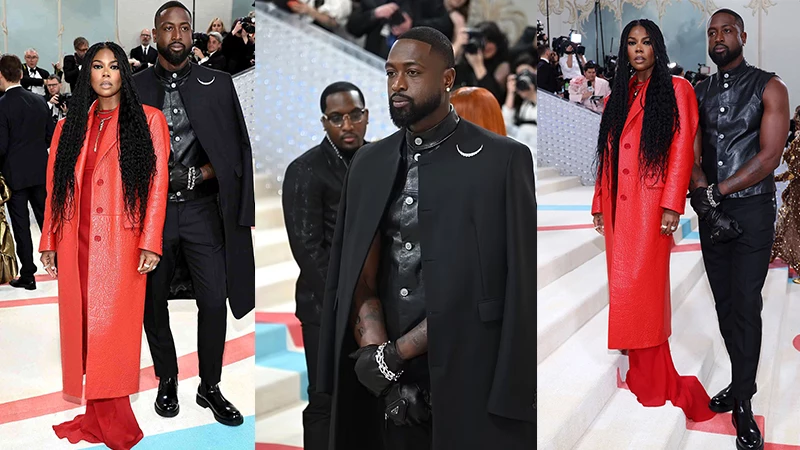 Dwayne Wade is among those male celebs who made a statement on the Met carpet with their men's jewelry looks. He sported a Tiffany HardWear link bracelet over his black leather gloves. His Tiffany & Co. diamond, platinum, and yellow gold crescent moon brooch was a great finishing touch to his ensemble.
Priyanka Chopra in Bulgari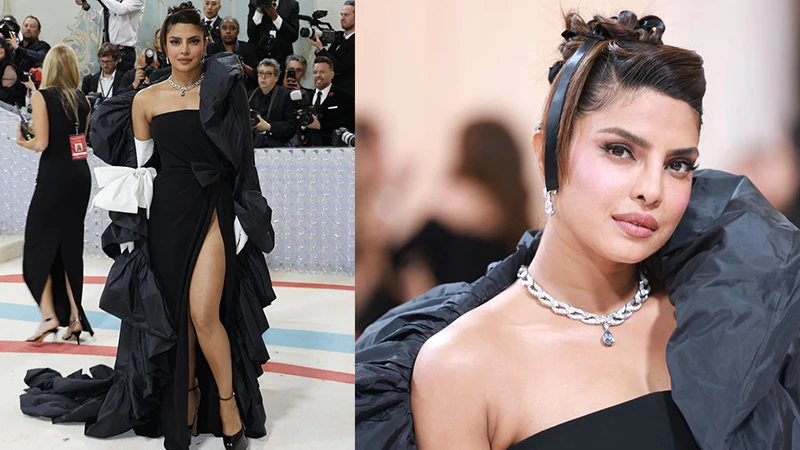 Next on the list of our favorite Met Gala jewelry is Priyanka Chopra, who made a stunning appearance at the event with her husband, Nick Jonas. Her breathtaking Bulgari necklace served as a setting for the 11.6-carat Laguna Blue diamond. Did you know it is the biggest blue diamond ever sold at an auction?
It is a first for a high-end jewelry design made especially for the Met Gala in a partnership between Bulgari and Sotheby's. The gemstone, which was originally set in a ring by an Italian jeweler for the family that bought this diamond in the 1970s, has not made a public appearance in 40 years until now.
This blue diamond necklace looked stunning and complemented Priyanka's black Valentino outfit.
Amanda Seyfried in Cartier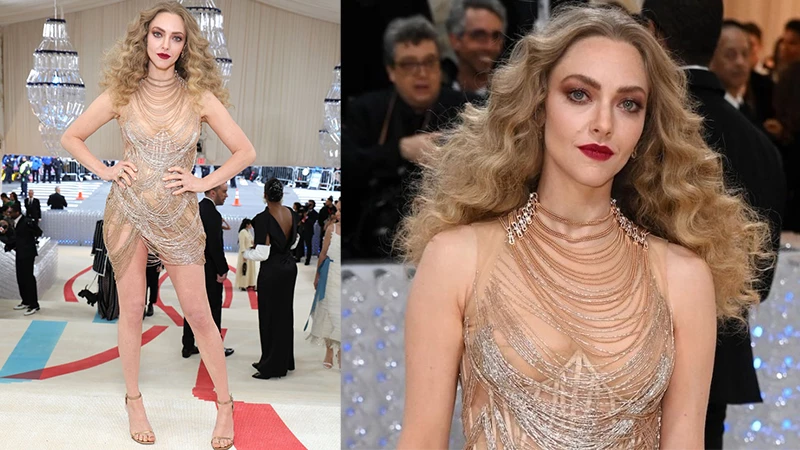 Was it Amanda Seyfried's big hairdo or her dazzling jewelry that caught your eye? Maybe it was both of them. Her mini dress featuring shimmery strands of fabric complemented her multi-strand and layered 18-karat rose gold necklace with diamond accents by Cartier Agrafe flawlessly.
It was definitely a stunning moment on the Met carpet.
Lil Nas X in Swarovski crystals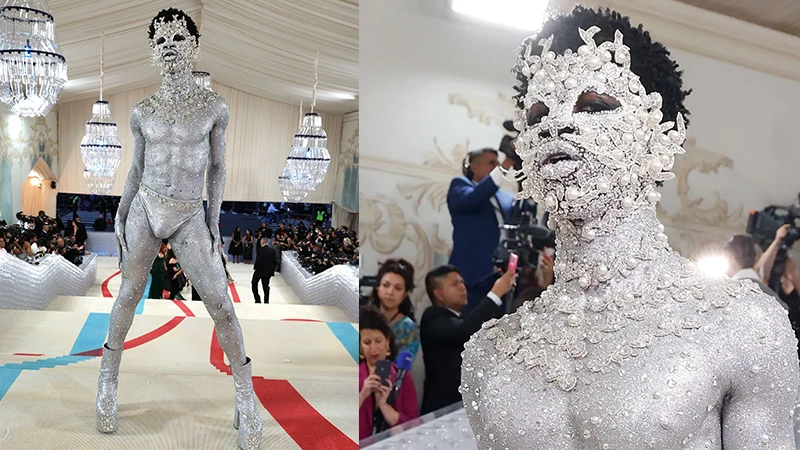 Another celeb who attended the 2023 Met Gala event in the cat-inspired look was the famous rapper Lil Nas X. He made a jaw-dropping statement on the Met carpet, wearing nothing but a silver thong and metallic paint, and was bejeweled with pearls and Swarovski crystals.
Quite a bedazzling appearance, isn't it?
Gigi Hadid in Lagos and Smiling Rocks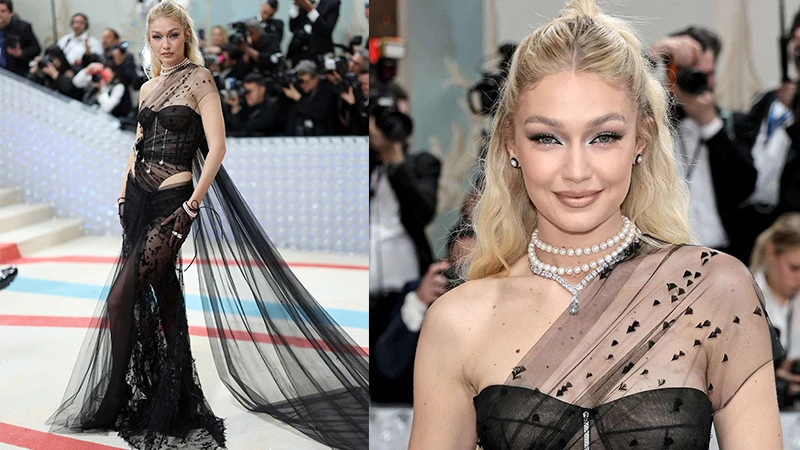 Gigi Hadid looked gorgeous in her sheer black Givenchy corset gown. She complemented her overall outfit with layers of pearl neckpiece from Lagos and diamond jewels from Smiling Rocks.
Nicole Kidman in Harry Winston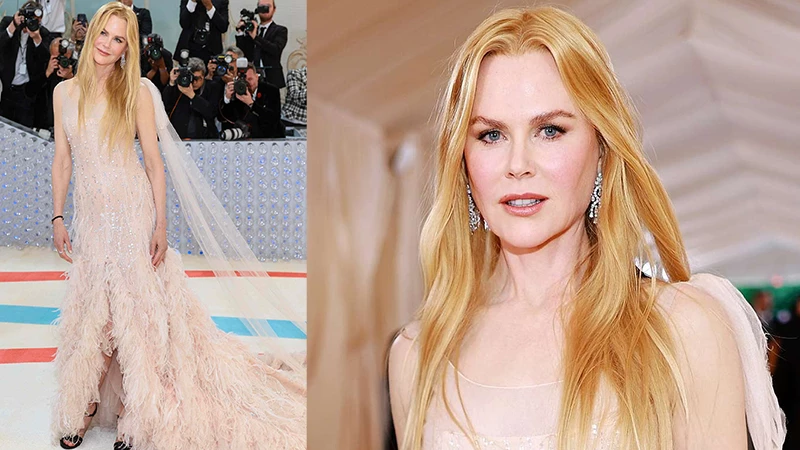 Nicole Kidman never disappoints her audience and fans with her stunning looks at events, and her Met Gala appearance was no exception. She wore a beautiful blush pink gown and accessorized the outfit with a gorgeous pair of 16.64 carats Winston cluster diamond chandelier earrings and a 2.33 carats Harry Winston sparkling cluster diamond ring.
Parting Thoughts
The celebrity jewelry looks at the 2023 Met Gala event was definitely a treat to our eyes. While there were many more amazing jewelry looks, these were some of our favorite picks. You too can have your own fancy jewelry moments by having gemstone jewelry pieces in your collection!