The stress of planning the wedding is finally wearing off and now you can move on to the adventures the future holds for you two. Being a newly married couple, you must be excited and filled with joy to enter this new phase of life. This new energy and excitement can bring about a truly unique piece of jewelry. Styling gemstone jewelry can be very thoughtful because of the impact they have on one's life and because such jewels can be a good investment for your future as well. Finding the ideal jewelry for newlyweds can be a bit of a task and that's where we step in. 
Here are some of the suggestions for you to consider before getting your hands on the perfect 'after wedding' jewelry. 
Rose quartz
Rose quartz is a gemstone known as the love inducer. This is a stone that encourages the couple to be more gentle, caring, and forgiving with each other and others. In simpler words, having rose quartz as a gemstone in any of your jewelry can be harmonious and bring good fortune to you and your partner. 
We suggest that you opt for a pendant setting for this beautiful gemstone of yours. Rose quartz, because of its pretty pink color, will enhance your neckline and be a little something to keep close to your heart. One of the best ways to design your rose quartz pendant is to have the gemstone in a heart shape and set it in a halo pendant setting. This will definitely give you the look of your dreams.
Yellow Sapphire
Yellow sapphires are known to bring success, be it work or relationship. The stone helps in improving love relationships and maintaining a positive energy between the two souls. Yellow sapphires are often recommended to those who face delays in getting married and to those who recently got married for a long & blissful married life. 
Yellow sapphire is a spectacular gemstone frequently used in pendants, engagement rings, bands, earrings, and whatnot. Wearing this gemstone in a band setting can make the whole attire look effortlessly chic and unique. 
Pearls
Cultures throughout history have believed that the pearl symbolizes purity as it bestows the power of the moon and is meant to summon good luck, peace, courage, and absolute calmness in the wearer's life. Wearing pearls on the wedding day is meant to bring a happy married life for the couple. 
This could be the best gift for your wife right after the wedding as pearls are usually gifted to those who you really care about and want to express your love in a unique and timeless manner. You can't ever go wrong with pearls, perhaps pearls are a woman's best friend after all. 
Emerald
Emeralds are the right pop of color you need to elongate your look right after the wedding. Wearing emerald after getting married can bring growth in financial activities and immensely good fortune besides enhancing your creative pursuit. 
Emerald studded earrings in any setting will give you a royal & elegant look and definitely catch the eye of everyone around; it's something you can wear in day-to-day life. Emerald will make you look like a dream.
This gemstone is a seeker of love and a revealer of truth. It will inspire you to search for meaning, justice, harmony & compassion in your married life. This marvelous stone offers you good luck in style!!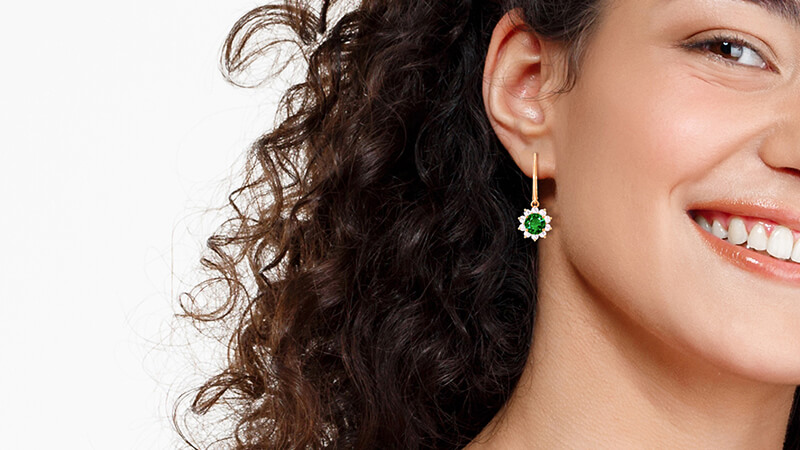 Ruby
Famous for its deep and bright red color, ruby can bring a unique pop of color to your jewelry and make it stand out from the rest. And since ruby symbolizes love and commitment, it makes a perfect wedding gift. A bracelet on your wrist screams sheen and beauty. Hence, styling a ruby-embedded bracelet can bring the required magic touch to your outfit and will make your wrist shine brighter than ever. 
Newlyweds can rock a ruby gemstone in many ways, be it a band, pendant, earrings, or bracelet, and be sure that you will be adored by everyone around you. 
Jewelry is like a perfect spice, it complements what's already there. The love, commitment, peace, and harmony that come with your married life have already been there but the right choice of jewelry will only make it more profound. Hope you have a happy and harmonious married life. Congratulations to both of you!! 
Also Read: 5 Gold Bracelet Ideas For Couples