Shopping for diamond earrings can be an exciting but daunting task, as there are many factors to consider in order to ensure that you get the best value for your money. Diamonds are considered a girl's best friend for many reasons, so gifting her diamond earrings can be a mindful idea. You can find a variety of diamond earrings; some of them feature diamonds as centerstones, and some feature diamonds as side stones. Before shopping for a diamond, you should do some homework because it can save you effort and money. Here is how to shop for diamond earrings like a pro with the help of our quick tips. 
What To Look For When Buying A Diamond Earring?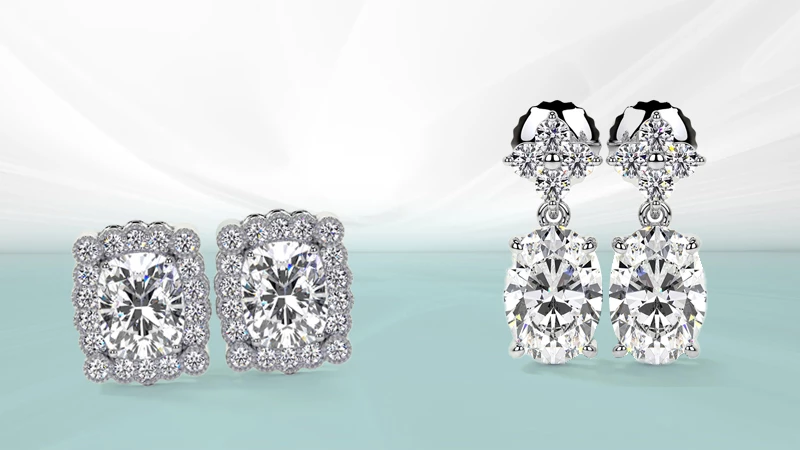 First and foremost, decide on the attributes your diamond earrings should have, so here are a few things you should consider.
Consider The Style: Diamond earrings come in a wide range of styles, including stud, hoop, drop, and chandelier. Choose a style that complements your face shape and personal style. There are lots of diamond earring designs available in the market. Some have diamonds as side stones, while others have accent diamonds. If available designs do not match your requirements or you have some other design in your mind then you should take the help of a jewelry designer.
Consider The 4Cs: The 4Cs of diamond quality are carat weight, cut, clarity, and color. These factors determine the value of the diamond and affect its appearance. A diamond with a higher carat weight, better cut, higher clarity, and brilliance will be more valuable and expensive. The cut of any gemstone plays a significant role in the beauty of any jewelry piece. You should also focus on the gemstone cut when choosing a pair of earrings because it is a gemstone cut that makes it a one-of-a-kind jewelry piece. Overall choose the 4Cs that are most important to you and fit your budget.
Pick The Metal: Diamond earrings can be found in various metals, including gold, platinum, and silver. Consider your skin tone and personal style when choosing the metal. Some people are allergic to certain metals, so either you should choose earrings in a metal you usually prefer for your other jewelry or you should know that you are not allergic to them. Metal plays an important role in the price of earrings. You can maintain your budget by choosing 14k metals instead of 18k. 
Check The Certification: Make sure the diamond earrings come with a certification from a reputable grading laboratory, such as GIA or AGS. This ensures that the diamond is genuine and accurately graded. Even if you choose to go for lab-grown diamonds then too you should prefer one with authenticating certificates.
How To Shop For Diamond Earrings For The Best Price?
Now that you are done with deciding upon the pair of earrings you are going to pick, let us find out how you can get it at the best price.
Determine Your Budget: Diamond earrings come in a range of prices, so it's important to determine your budget before you start shopping. This will help you narrow down your options and prevent you from overspending. In this step, you will be able to know whether you want to go for lab-grown diamonds or natural diamonds. Although the physical appearance of both lab-grown and natural diamonds is the same to the naked eye, if you are seeking investment potential, natural diamonds will be a better choice. 
Compare Prices And Quality: As we proceed further, a question starts tickling your mind. Where to shop for earrings? The answer is you can purchase them online or offline. Comparing prices and quality of diamond earrings from different stores and online retailers can be the best way to get the best earrings for the best price. You can also wait for the occasional diamond jewelry sale and get the most stunning piece of jewelry at a discounted price. 
By considering these tips, you can shop for diamond earrings. Now you know what to look for when buying diamond earrings. Diamonds are known for their extraordinary hardness, so when you give someone diamond jewelry, it becomes a token of your bond. Pick a perfect pair of diamond earrings and surprise your dear ones with a gift that will melt their heart.