The green emerald gems have always been regarded throughout history as a valuable possession primarily owned by kings and queens. These were not only used for royal jewels but also extensively engraved in thrones and personal items.
Let this mystic charm and awe of royal grandeur celebrate your special day in life. For this occasion we suggest that you explore this choice of an impressive emerald engagement ring. Specifically, instead of regular ring settings you may perhaps attempt an opulent setting with a fine emerald and few sparkling diamonds. The eternal sparkle of diamonds beautifully blends with intense green gemstone for a perfect engagement ring.
Some of the impressive designs for the emerald diamond engagement ring with a touch of splendor and shine are presented here for your momentous day.
Marquise cut emerald halo ring with round diamonds
This marquise cut emerald halo ring with round diamonds flourishes elegance with a fine series of small scintillating round shaped stones encrusted excellently in a majestic halo pattern enclosing a gorgeous marquise cut emerald accented in the center held on a sparkling studded prong setting. The glossy shank of the emerald ring is enhanced with the dazzle of tiny diamonds for an added charm and grace.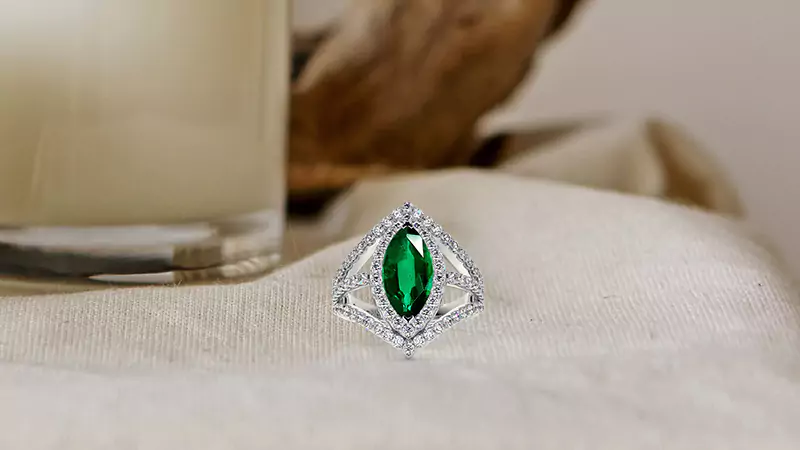 Trillion-shaped central emerald with ten prong-set round diamonds
An amazing way to save money without giving up on size is a trillion cut ring. Since a trillion cut emerald has a greater surface area, it appears larger as compared to a stone of same carat weight. And if it is accompanied with ten round diamonds, then voila! you have a visual treat. The richness of design and splendor of the ring is certainly going to put you on a pedestal above the rest.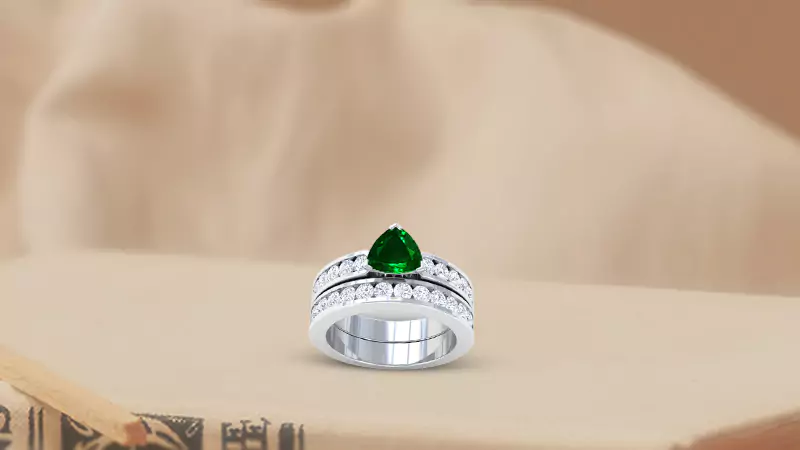 Emerald and princess cut diamonds prong set matching set
Princess cut diamonds are known for their exuberance and unmatched scintillation. Pairing these sublime white diamonds with a sparkling green emerald can make the showstopper of a ring. Modern brides are increasingly favoring color gemstone rings, more so because they want a subtle touch of sophistication in addition to a pop of color. This wonderfully designed ring is a sight to behold.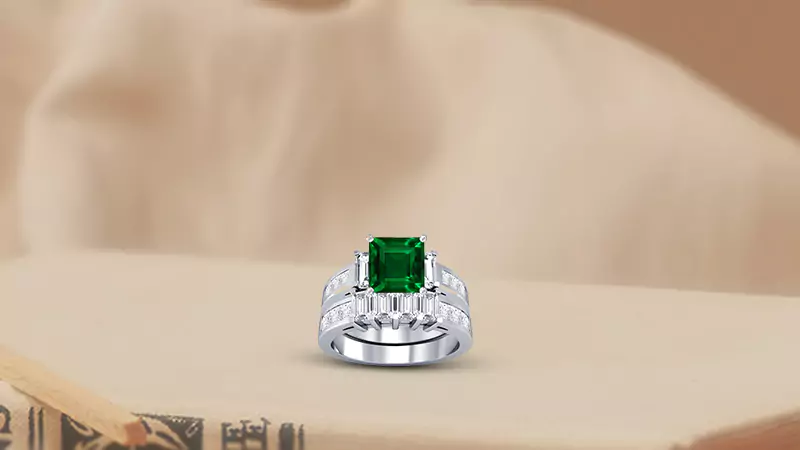 Marquise-cut emerald ring with channel set straight baguette cut diamonds
When you think of rings there are certain shapes and cuts that instantly come to your attention such as round, brilliant, oval, cushion etc. But here we are talking about something away from regular, something opulent and unique. A marquise-cut emerald set in a ring with channel set straight baguette cut diamonds is sure to ignite the interest of the people around you and make you feel like a queen.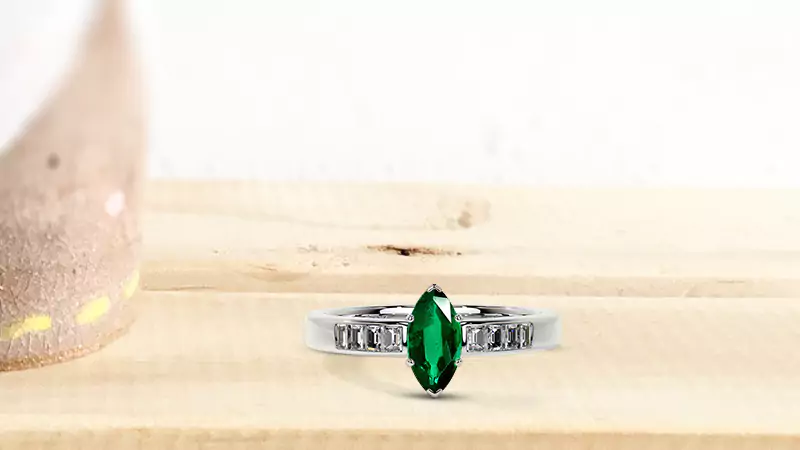 Heart-shaped emerald and princess cut diamond three stone ring
You are probably more familiar with a heart shaped ruby or pink sapphire but heart shaped emerald is also as striking or may be more especially if you are May born. Heart shaped emerald and princess cut diamond three stone rings are a combination made in heaven for a very few fortunate ones. This one is a true representation of extravaganza.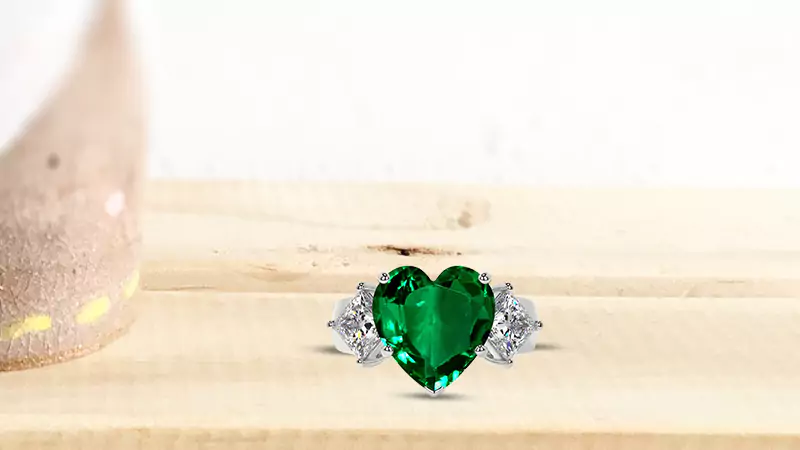 These are just a few of the many variations possible with a fine emerald and few dazzling diamonds. Though the emerald-cut emerald is a popular choice, these precious gems are equally magnificent in marquise shape, princess cut, cushion cut and oval shape. And, the colorless dazzle of diamond perfectly tones down as well as complements the dark vibrant green gem. 
As your memorable celebrations near, we suggest that you browse the range of emerald rings and choose opulence over regular, and feel very special on that day.