Do you ever look in the mirror and feel as if something is missing? Your outfit looks great, your makeup looks flawless, and your footwear matches your dress. So, what else could it be? Not many people realize this, but a jewelry piece can be a game-changer. And that being said, a sapphire pendant might be the missing piece to completing your overall look.
When I say sapphire, I am not just talking about the beauty in blue. It might amaze you to know that sapphire gemstones come in a myriad of colors other than blue, ranging from pink, yellow, and purple to orange and green. Quite fascinating, isn't it? 
Sapphire Gemstone
Sapphire is one of the precious and sought-after gemstones, the others being ruby, diamond, and emerald. It is a member of the corundum mineral group. Not only is it a beautiful stone, but it is also highly durable, with a hardness rating of 9 on the Mohs scale. No wonder why so many people love sapphire jewelry.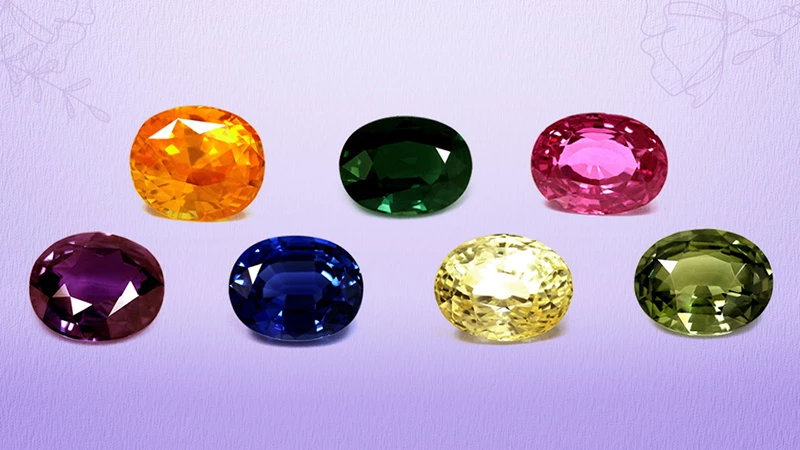 If you are looking for a sapphire jewelry item that is fashionable yet elegant, a sapphire pendant is bound to win your heart. It is the perfect piece of jewelry for everyone. Let's find out what makes a sapphire necklace the right choice for styling sophisticatedly, and check out some breathtaking pendant designs!
Sapphire Pendant: The Ideal Jewelry For You
Simply beautiful and timeless
While you can find a variety of stunning pendants, there is something special and magical about a sapphire pendant. It could be its sparkle or its color, or both! While blue is the most popular hue, you can find a sapphire pendant in many beautiful colors. 
A sapphire pendant is also a timeless piece of jewelry that is perfect for every person.
Symbolism
Each color of sapphire holds a deep and special meaning. For instance, blue sapphires represent hope, harmony, and truth. Pink sapphires stand for love, wisdom, and resilience. Yellow sapphires, on the other hand, are known to symbolize happiness, fortune, and wisdom. No matter which sapphire gemstone you choose, your sapphire pendant will be a symbolic piece of jewelry.
Highly durable
No one likes spending money on jewelry items that break after wearing them a couple of times. If you are looking for something beautiful and durable, a sapphire pendant will match your description perfectly! As I already mentioned, sapphires have an impressive rating of 9 on the Mohs scale of hardness. That means you can wear your beautiful sapphire pendant every day without worrying about damaging or breaking it! Isn't that great?
Stunning Sapphire Pendants
Round Yellow Sapphire Pendant
Yellow is the color of sunshine, vibrance, and everything positive. If you want to add a beautiful pop of color to your ensemble and bring some more positivity to your life, a yellow sapphire pendant is perfect for you. While you can find this pendant in different cuts, a round sapphire perfectly captures the vibrancy of the sun. 
If you want to add more sparkle to your necklace, you can opt for a diamond halo around the center stone. Although all metal chains look great with this yellow gemstone, yellow-gold as well as silver might be the best choices.
Pear-cut Blue Sapphire Pendant
There's no denying that sapphires of all colors are beautiful. However, blue sapphires are classic and timeless. So, wouldn't it be a crime for a jewelry lover, such as yourself, to not have a blue sapphire pendant?
A pear-cut blue sapphire pendant is perfect for anyone who likes things elegant and enchanting. The blue hue is like a captivating ocean abyss, and you'll find yourself drowning in it. If you are September born, you have blue sapphire as your birthstone, and this necklace is what's missing in your collection!
Oval Green Sapphire Pendant
Are you a nature lover? Bring the beauty and aesthetic of nature into your jewelry with an oval green sapphire necklace. This green gemstone stands for tranquility and calmness and is the perfect piece of jewelry to incorporate serenity into your life.
Heart Necklace With Pink Sapphire
Among the different meanings, pink sapphires are also known to represent love. If you are looking for a necklace for your beloved, surprise her with a pink sapphire heart pendant! It is simply elegant with a feminine touch and a perfect gift to put a breathtaking smile on your beloved's face.
Final Words
If you don't have a sapphire pendant in your jewelry collection, you are missing out on its beauty and allure. You can wear this piece of jewelry with any outfit and on any occasion. It is the perfect accessory to add a touch of sophistication and style to your ensemble. So, what are you waiting for? Get your sapphire pendant today!