A sapphire is beautiful in any of its natural shade of color. But a blue sapphire holds a special place in one's jewelry collection. Whether it is an intense blue, deep blue, navy blue, royal blue, medium blue, vivid blue, medium purplish blue or a sky blue sapphire, each of its hues and shades is elegant. And a ring set with one such beautiful sapphire is truly exquisite.
Though the timeless classic solitaire ring setting is a popular choice there is a wide range of ring designs and settings where a blue sapphire may be impressively placed. And each design may be set in yellow gold or white gold or platinum. Also, the size and shape of the blue sapphires may be chosen as desired. Further, by adding few diamonds the blue sapphire jewel becomes more special.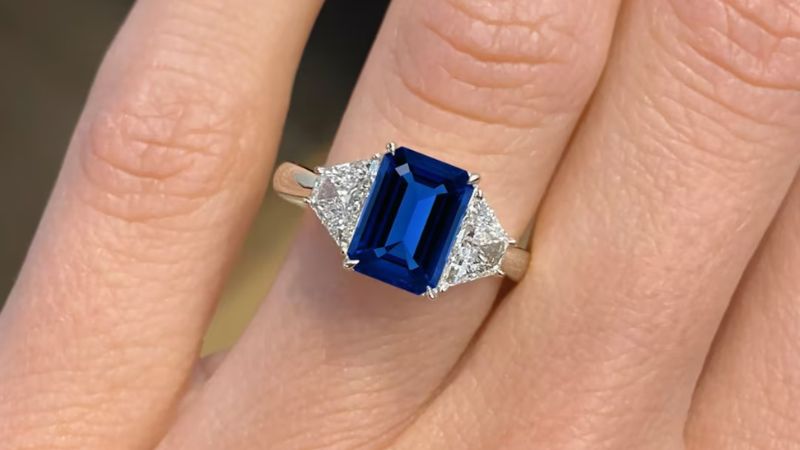 Some stunning designs for blue sapphire that range from elegant solitaire setting to spectacular designer settings is: emerald cut sapphire tapered cathedral solitaire ring, round sapphire three stone ring with princess cut diamonds, round sapphire with bezel set diamond ring, oval cut sapphire contour setting solitaire ring, square cut sapphire prong set three stone ring with round diamonds, pear shaped sapphire and round diamonds five stone ring, trillion cut sapphire and round diamonds eternity ring, round sapphire and tapered baguette diamonds three stone ring, oval cut sapphire prong set halo ring with round diamonds, and untreated oval cut sapphire ring with marquise cut diamonds.
For the next special celebration in your life it is suggested that you select a blue sapphire and set into a personalized ring.