Men have a limited range of choices when it comes to selecting engagement rings for them. Either the color of the stone is too bright or the design is simply too intricate. They prefer the right visual balance of color, sturdiness, elegance and a completely non-fussy and less complicated ring design. Besides the specifications with respect to its appearance, they do not like to spend on expensive rings for themselves and most importantly, the comfort-wear factor of the ring must not be compromised.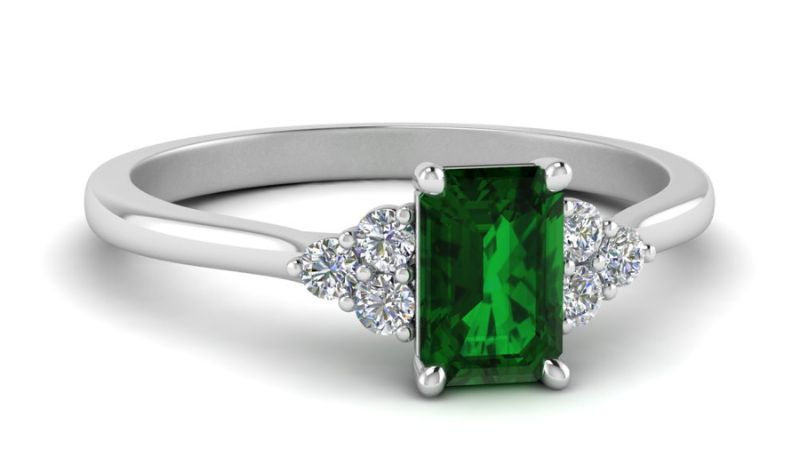 The green precious stones, the emeralds, are the most appropriate choice for men's rings. The intense green color reflects a kind of solid strong appeal which complements his personality. Few good designs for men's emerald rings are presented here: for a very simple design, the choices are; round emerald bezel set ring; round emerald prong set ring; round emerald bar channel set ring; the bands here are usually white gold or platinum and have delicate subtle lines of varying space engraved on it and these lines may be parallel or vertical or diagonal.
For a more spectacular choice of men's emerald rings, one may choose from; round emerald bar channel set ring with channel set princess-cut diamonds along the band; round emerald bezel set ring with very small sparkling pave set diamonds encrusted as the shape of a square; oval emerald with triangular-cut diamonds on either side and set in yellow gold; emerald cut emerald with small diamonds set on the either side on the band. Many elegant variations of emerald rings are available at leading jewelry shops which one may explore to find the best choice.
Also, emerald engagement rings may be custom-made with a good jeweler for a creatively satisfying experience.