Once a legend said that your personality is still the second thing that creates your impression, jewelry is the first. Jewelry has become one of the essential adornments, especially if you are going to attend a ceremony or on an outing. But one question always tickles our mind: which are the best jewelry designs to choose from? These days you will find the market over-flooded with different gemstone jewelry designs. Choosing gemstone jewelry designs that do not fade away with time is really a struggle. In this article, we will suggest some stunning geometric gemstone jewelry designs and for those who want to ditch traditional trends, we will uncover some trendy asymmetrical gemstone jewelry designs.
Geometric Gemstone Jewelry Designs
Although most machine-cut gemstones come with a certain geometrical shape, the crux is how these geometrical shapes are set in a jewelry piece. Let us start exploring some unique geometrical jewelry masterpieces.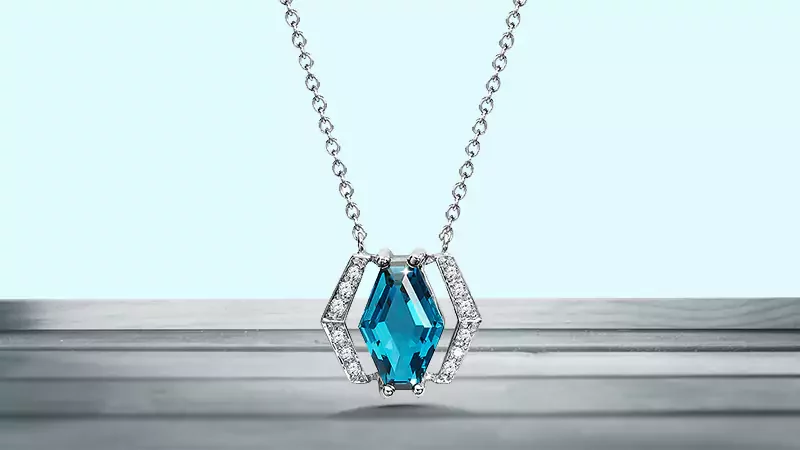 1. Octagonal Pendant With Accent Diamonds
You might have seen a marquise cut or oval shaped gemstone, but this geometrical gemstone jewelry design is something different. It has an octagonal-shaped pendant surrounded by a bracket-shaped structure in white gold with accent diamonds on it.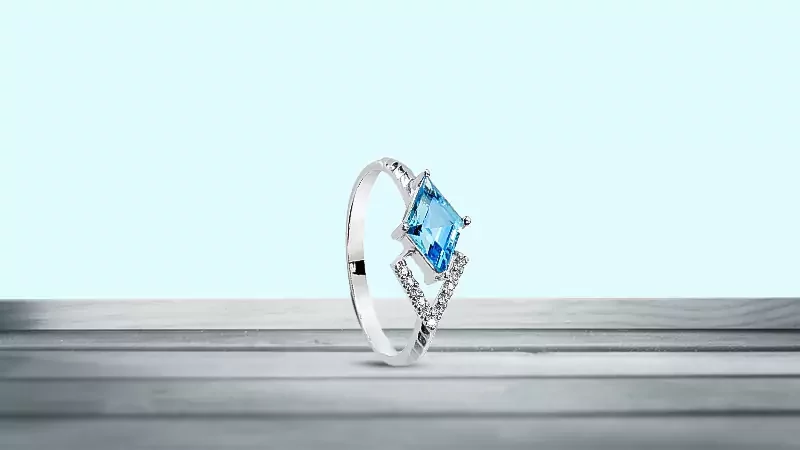 Also Read: The 10 Best Affordable Stores to Shop Jewelry Online in the USA
2. Horizontal Rhombus Shape Ring
A Rhombus is a geometrical shape in which opposite lines are parallel and opposite angles are the same. In this ring, you will find an aqua-blue gemstone in the shape of a rhombus set horizontally in a white gold ring. This ring creates an everlasting impression, and you will surely get a compliment for this out-of-the-box jewel.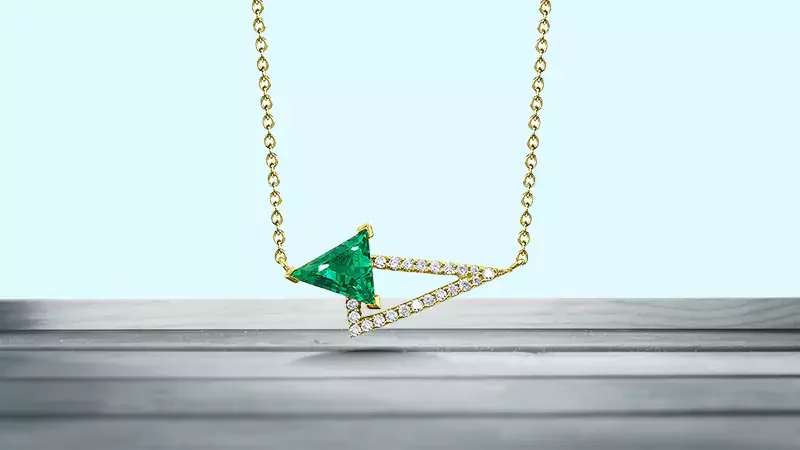 3. Triangle On Triangle Emerald Pendant
Not white gold has all the juice, some geometrical jewels look stunningly amazing in yellow gold. This triangle on the triangle pendant features a triangular emerald attached to a golden triangle with accent diamonds. You can pair this pendant with yellow gold or a white gold chain because the beauty of emerald complements almost all metals very well.
Asymmetrical Gemstone Jewelry Designs
Asymmetrical gemstone jewelry designs are a little away from traditional jewelry designs but very close to nature. As you can understand by the name itself, you will not be able to find any uniformity in such types of jewelry designs. So here are some of the most discussed and stunning asymmetrical gemstone jewelry designs.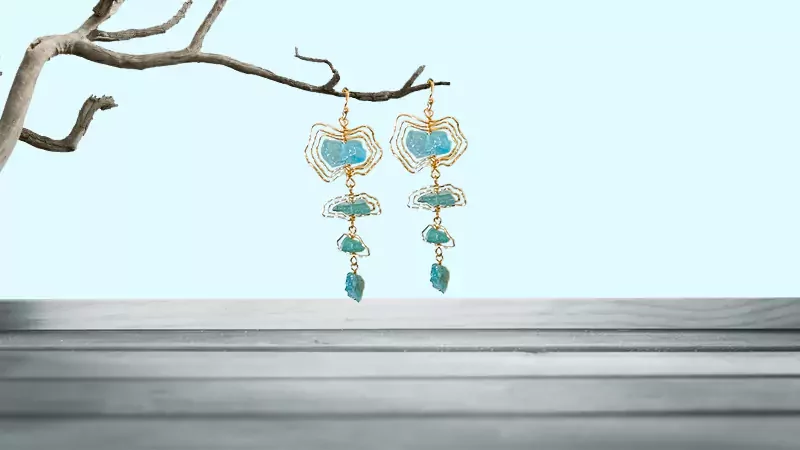 1. Earrings With Asymmetrical Chunks
You might have seen thick chunks of stones or pebbles in the jewelry popular in ancient times because early humans used to adorn them with these kinds of jewels. These hoop earrings feature multiple stones, but none of these stones is in symmetry with the other. Hoop earrings are already a perfect accessory for beach parties and you can also pair these earrings with an evening gown to stand out on a dinner date.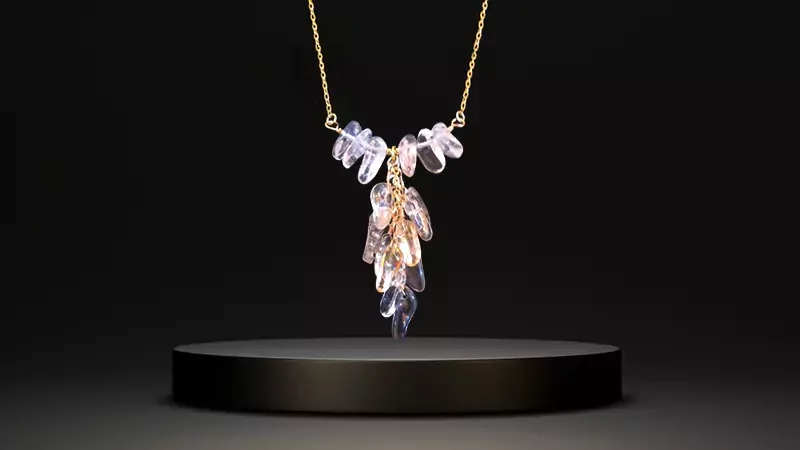 2. Haphazard Crystal Necklace
For a long time, humans living in mountains or forests used the bones of animals to make accessories. These accessories were not usually symmetrical and arranged in proper order. To replicate these designs, jewelers these days use crystals or different chunks of colored stones. These chunks are put together in a chain to create a jewel that can create an everlasting impression on asymmetrical jewelry admirers.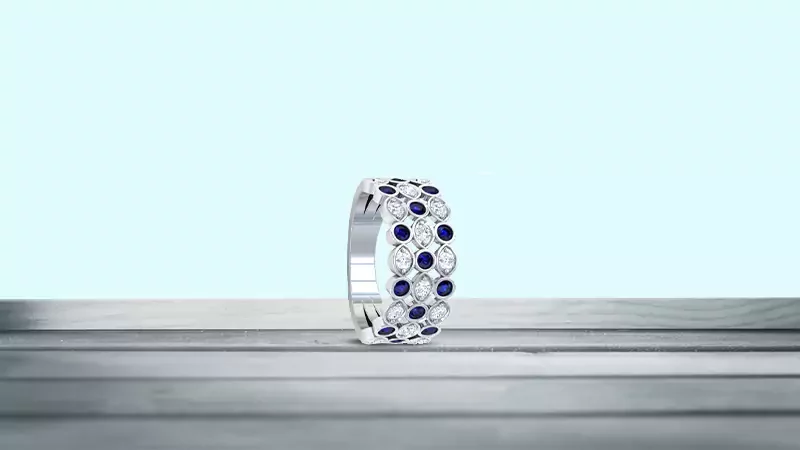 3. Gemstone Band With Uneven Arrangement Of Gemstones
You might have seen many gemstone bands and metal bands, but this band is different from all the traditional jewels. Although in this metal band, you will find all the gemstones in round shape, and in the bezel setting, there is no sequence and the overall appearance of this band is also not symmetrical. The best thing about this jewel is that it will make you look classy and no one will be able to copy your style.
So these were some geometric and asymmetrical jewelry ideas we hope you loved exploring about them. Have you ever tried any of such jewels which are one of their own kind? Well, it is a thrilling experience. Please do not forget to share your views and experiences with us in the comment box.  
Also Check: 3 Must-Have Jewelry Pieces For Every Woman