Once upon a time, in a magical kingdom far, far away, there lived Disney princesses who captured our hearts with their beauty, grace, and courage. And what better way to celebrate their enchanting stories than with Disney-inspired engagement rings? From Snow White's diamond engagement ring to Rose-de-France Rapunzel's engagement ring, these rings are made for a fairytale ending. With shimmering diamonds, glowing gemstones, and intricate designs, these rings bring a touch of fantasy to your love story. So if you're ready to say "I do" in true Disney fashion, then let's discover the best Disney engagement rings for your happily ever after.
1. Enchanted Diamond Snow White Disney Engagement  Ring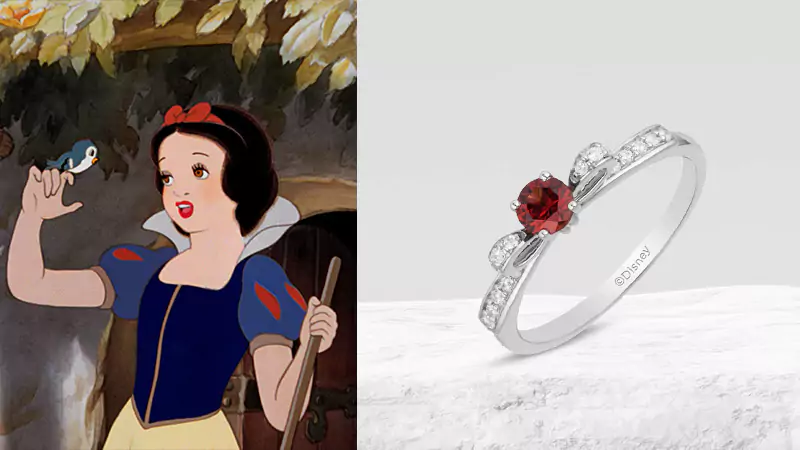 Snow White may be known for her classic fairytale story, but this Enchanted Disney Fine Jewelry Sterling Silver Snow White Fashion Ring adds a modern twist to her style. The ring features a 4mm round garnet and 1/10 CTTW diamonds, making it the perfect accessory for any Snow White fan looking for a touch of sparkle. This ring is the perfect accessory to channel your inner Snow White and add a touch of fairy tale magic to your special day.
2. Enchanted Disney Fine Jewelry Diamond Belle Ring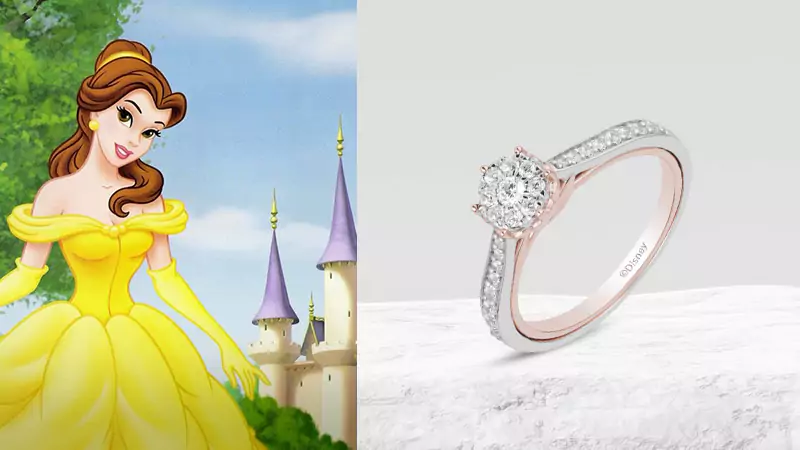 Enchanting and sophisticated, this Belle Rose Fashion Ring is one of the best Disney wedding rings out there! Fit for true beauty, it is inspired by the iconic rose from Beauty and the Beast. The ring features a 14K rose gold over sterling silver band and a shimmering rose-shaped center made of diamonds, making it a perfect choice for a bride who loves the Disney magic. The intricate details on the petals add a touch of elegance, just like Belle's refined taste. This ring is the perfect way to channel the inner Belle in you and embrace the enchantment of Disney engagement rings on your special day.
3. Enchanted Blue Topaz Cinderella Engagement Ring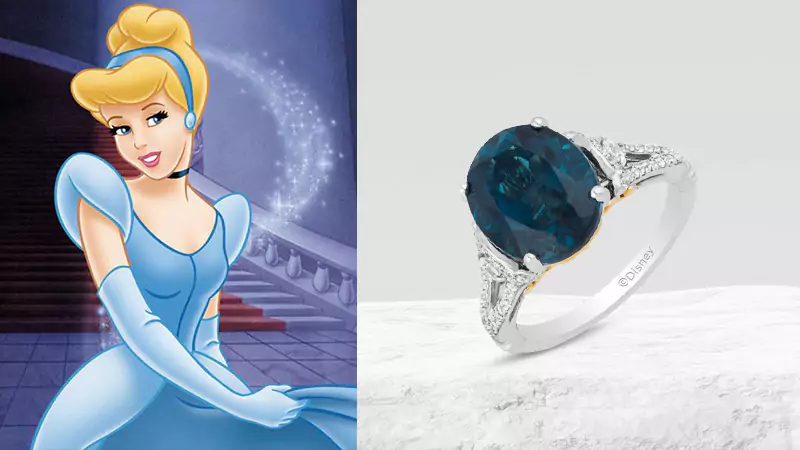 Every little girl dreams of becoming a princess, and this stunning Cinderella-inspired engagement ring is a dream come true. The deep blue London Blue Topaz gemstone sparkles with a true sense of enchantment, while the white diamonds on the sides add extra sparkle to the ring. The two-tone band made of 10K white gold and yellow gold features intricate details that are fit for royalty. This enchanted Disney wedding ring is the perfect way to start your happily ever after.
4. Enchanted Elsa Disney Engagement Ring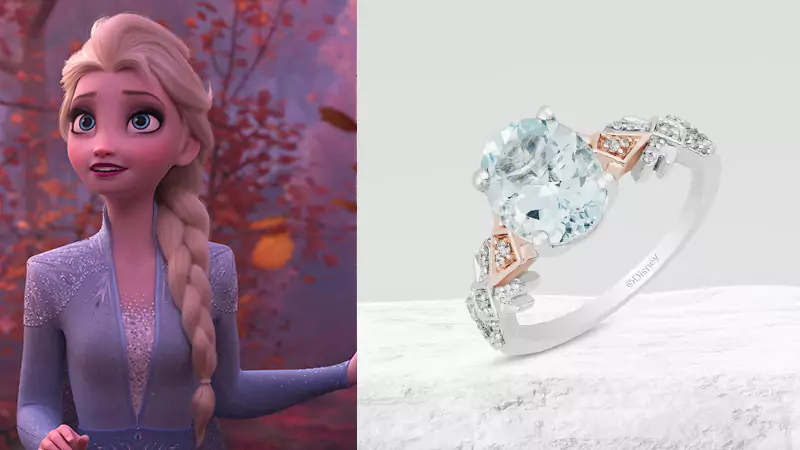 Capture the magic of Disney engagement rings with this Enchanted Disney Elsa Engagement Ring. The intricate design and icy blue aquamarine gemstone are fit for a queen and perfectly capture the essence of the beloved ice queen, Elsa. The delicate 10K white and rose gold setting creates a stunning contrast that will leave you breathless. Whether you're planning to propose to your own queen or simply want to treat yourself, this ring is a must-have for any Disney fan or lover of all things magical. Let the enchantment of Elsa's story inspire your love story with this beautiful ring.
5. Enchanted Anna Disney  Engagement Ring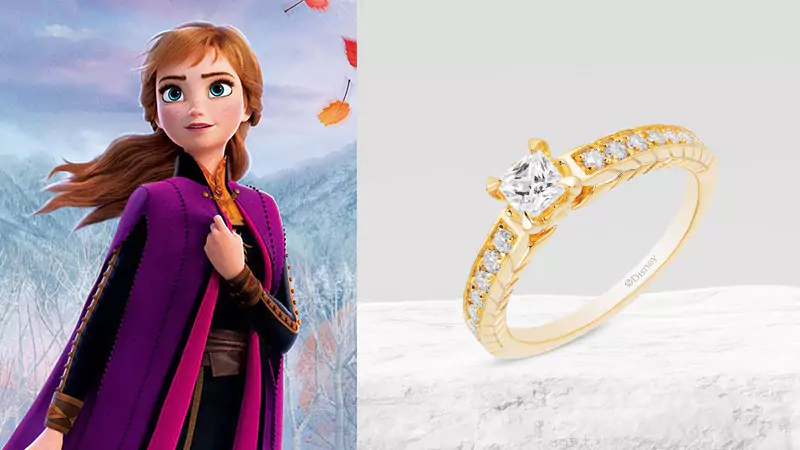 This 14K yellow gold Anna engagement ring is a beautiful representation of Anna's pure and devoted love for her sister, Elsa. The braided design of the band is reminiscent of Anna's signature hairstyle, while the princess-cut diamond in the center adds a touch of elegance and glamor to the ring. The delicate design of the ring is perfect for those who want a subtle nod to their love for Disney in their engagement ring.
6. Tiana's Princess Cut Green Moissanite Engagement Ring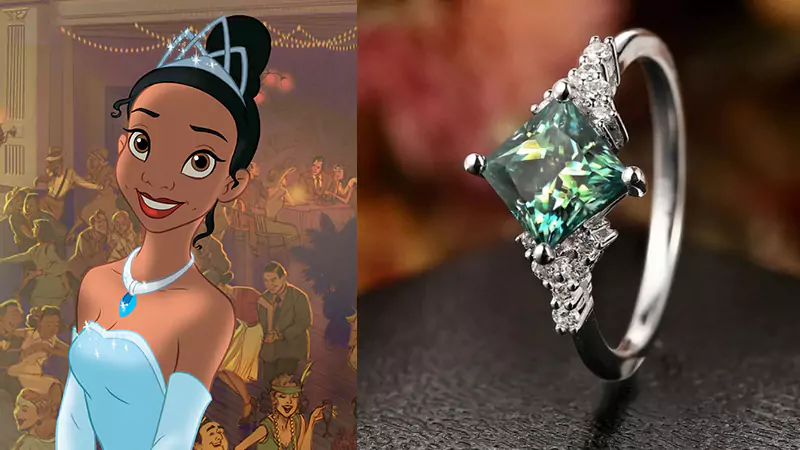 This exquisite Tiana-inspired engagement ring is fit for a princess. The princess cut design and shimmering green moissanite gemstone are a match made in heaven, perfect for those who want to channel Tiana's vibrant and determined spirit. The delicate and elegant design of the ring is sure to catch everyone's eye and make your special moment even more memorable.
7. Alexandrite Cosmos White Gold Triple Moon Engagement Set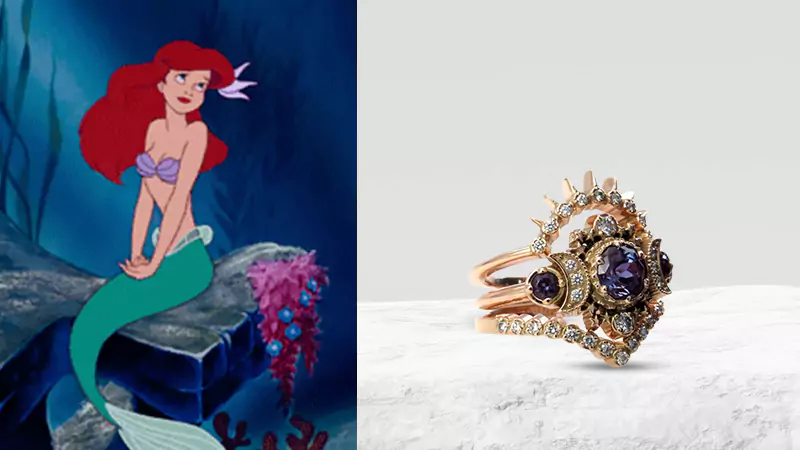 This stunning lunar-inspired engagement set is perfect for those who want a unique and magical ring that reflects their love for Disney. The deep blue Alexandrite gemstone perfectly captures the essence of Ariel, the curious and adventurous mermaid. The triple moon design and the white gold band are a beautiful representation of the stars above water, making this ring an ethereal and enchanting choice for your special day.
8. Enchanted Blue Topaz Jasmine Engagement Ring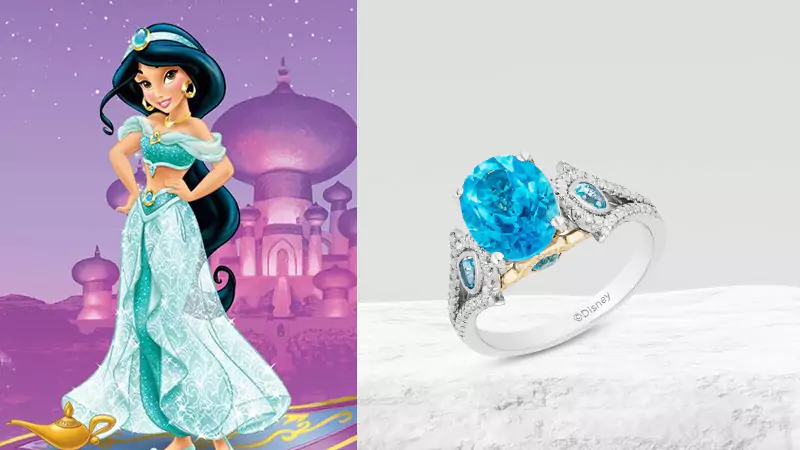 This beautiful Jasmine-inspired engagement ring is the perfect way to channel your inner Disney princess. The bold blue topaz gemstone, surrounded by pavé diamonds, perfectly captures the vibrancy and courage of Princess Jasmine. The two-tone band made of 14K white gold and yellow gold adds a touch of elegance and sophistication to the ring, making it a timeless choice for your special moment.
9. Enchanted Emerald Tinker Bell Disney Engagement Ring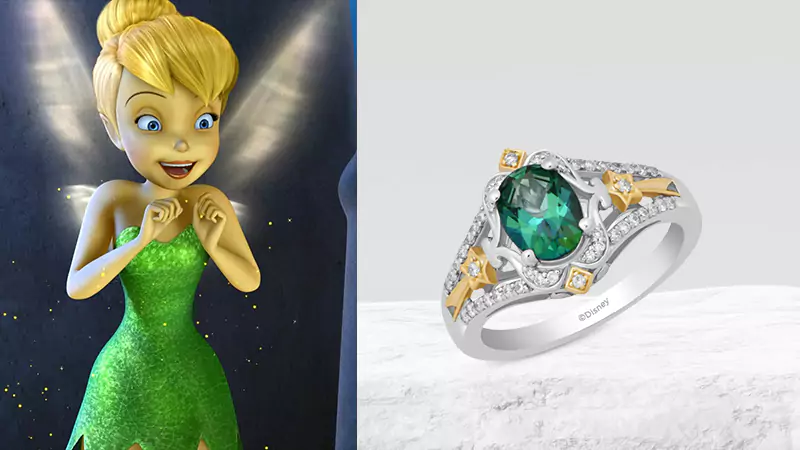 Have you ever dreamed of soaring through the skies with a sprinkle of fairy dust? Well, now you can capture that same enchantment with the Enchanted Disney Fine Jewelry Tinker Bell Engagement Ring. This dazzling ring features a shimmering created emerald and a sparkling diamond center stone, all set in sterling silver and 10K yellow gold. And to top it off, the ring is inspired by none other than the spunky and mischievous Tinker Bell herself, with delicate wings and a playful grin. Trust me, when you slip this ring on your finger, you'll feel like you're flying through the clouds with all the magic of Neverland at your fingertips.
10. Enchanted Rapunzel Disney Engagement Ring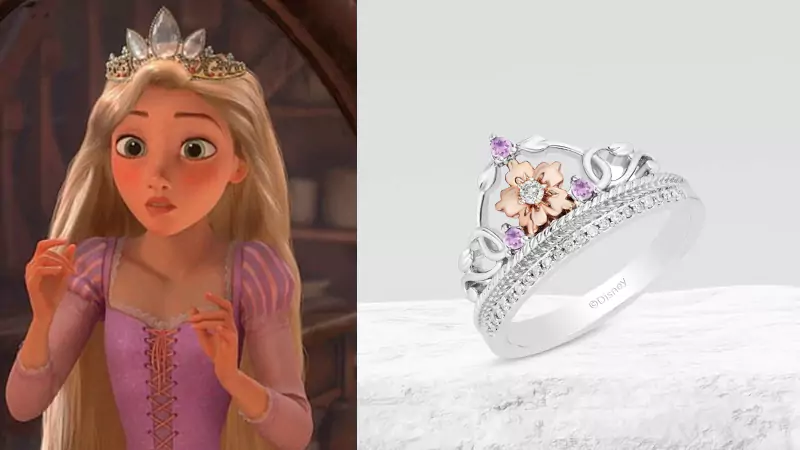 Oh, Rapunzel! Her long golden locks and artistic flair make her a Disney princess like no other. And now, you can add a touch of her enchantment to your life with the Enchanted Disney Fine Jewelry of 14K Rose Gold over Sterling Silver with 1/10 CTTW Rose-de-France Rapunzel Ring. The romantic rose gold setting complements the delicate lavender hue of the Rose-de-France stone, while the intricate band details reflect the whimsical, artistic style of our beloved princess. Let your inner princess shine with this magical engagement ring inspired by the one and only Rapunzel!
A Fairytale Ending
Magical, enchanting, and truly one-of-a-kind, Disney-inspired engagement rings offer the perfect blend of whimsy and elegance for the ultimate fairy tale romance. From Cinderella's iconic blue and white to Elsa's icy aquamarine, there's a ring to suit every Disney-loving couple's style. Whether you're looking for a classic princess cut or a unique moon-inspired design, these Disney engagement rings are sure to make your heart skip a beat. Let your love story be as timeless as the fairy tales that inspired these stunning rings!